A Christmas Carol. Charles Dickens. Victorian London. Tiny Tim. Yes, we all know the tale, probably inside and out. But where did you first get to know the beloved Christmas story of compassion and generosity triumphing over cruelty and greed? There's no shame in admitting that the Muppets are responsible for your Dickens knowledge! After all, who doesn't love Michael Caine snarling at Kermit the Frog aka Bob Cratchit ?! Or maybe you're a fan of the 1951 film with Alastair Sim starring as the bad-tempered Ebenezer Scrooge. However you came to A Christmas Carol, welcome!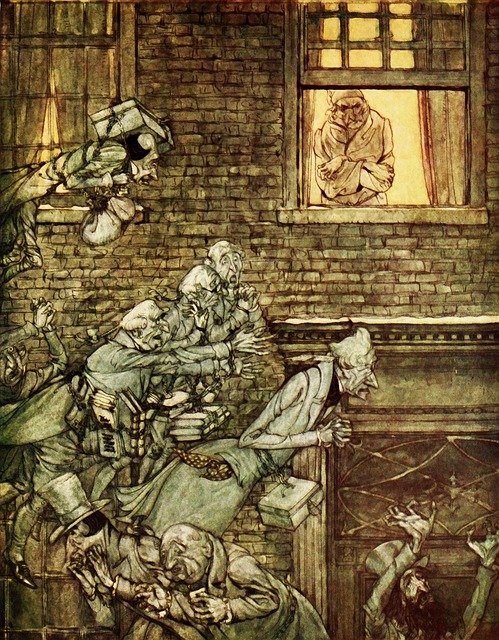 With the huge number of film and television adaptations throughout the years, it will come as no surprise to learn that the novella has also been adapted for the stage many times. In fact, it was first produced on stage just weeks after the book's publication. A two-act adaptation, entitled A Christmas Carol: Or, the Miser's Warning!, was staged at the Surrey Theatre in London in February 1844. By the end of that month, eight rival productions had popped up across London, all based around the popular tale.
So, let's explore some of the varied and imaginative stagings of Charles Dickens' festive literary treat!
Patrick Stewart & A Christmas Carol
In 1988, Patrick Stewart was inspired to create a one-man adaptation of the novella, in which he played over 30 characters. He did not use any props or costume changes, and his performance was compared to the original recitals by Charles Dickens. Stewart took the production to New York in 1991 and was awarded the Drama Desk Award for Outstanding One-Person Show. Back in London, he also received the 1994 Laurence Olivier Award for Best Entertainment. Describing the show as both a roller coaster and a merry-go-round because of the huge physical demands, Stewart has revived the show several times, most recently in NYC in 2019.
However, this wasn't Patrick Stewart's only appearance as Scrooge! In 1999 he starred in a television film adaptation of the novella on TNT and was universally praised for his performance, earning a nomination at the Screen Actors Guild Awards.
Scrooge: The Musical
Adapted from the 1970 musical film of the same name, Scrooge premiered in Birmingham, England in 1992 and then toured the UK and Ireland during the holiday season from 2003-2013. The story for both the film and musical was adapted by Leslie Bricusse and he was nominated for an Academy Award for the score and the hit song "Thank You Very Much".
Bricusse provides a knees-up, fun musical that adds a dose of sweetness to Dickens' original text. Okay, a bucket load of sweetness. If you want the fluffy, wholesome adaptation, this is the one for you. Or maybe you could also try…
Lynn Ahrens & Alan Menken's A Christmas Carol
Yes, we've reached the Broadway spectacular! Two of Broadway's biggest hitters, Lynn Ahrens and Alan Menken, took their turn at adapting Charles Dickens' novella and it's fair to say that they were pretty successful. A Christmas Carol: The Musical ran for a decade during the holiday season at New York City's Paramount Theatre in Madison Square Garden from December 1994 to 2003. And the list of actors playing Ebenezer Scrooge wasn't too shabby either! Those taking on the role each year included Tim Curry, Terence Mann, Roger Daltry, Frank Langella, and the original Scrooge, Walter Charles. After the final Madison Square Garden production, NBC aired the televised adaptation of the show starring Kelsey Grammar as the curmudgeonly miser. An enjoyable, modern family classic you might crack out this Christmas!
Fellow Passengers
Wait, an adaptation of A Christmas Carol that doesn't use the original title? Yes, that's right! The title actually comes from a line in the original novella, when Fred (Scrooge's nephew) describes Christmas as:
"a kind, forgiving, charitable, pleasant time: the only time I know of, in the long calendar of the year, when men and women seem by one consent to open their shut-up hearts freely, and to think of people below them as if they really were fellow passengers to the grave, and not another race of creatures bound on other journeys."
And that's not the only thing different about this 2004 stage adaptation. This production features just three actors who all rotate into the role of Scrooge. The play also includes almost every word featured in the original novella, aiming to restore the political and social commentary that writer Greg Carter felt was missing from lighter, modern adaptations.
Fellow Passengers premiered at Strawberry Theatre Workshop in Seattle, Washington to critical acclaim. This is a play that focuses on the talent and strengths of its three ensemble actors, rather than a host of props, costumes, and special effects. A Christmas Carol is stripped bare and the moral of the story is elevated.
Jack Thorne's A Christmas Carol
This time we're back to Broadway and London's West End with A Christmas Carol, adapted by Jack Thorne (the playwright behind Harry Potter and the Cursed Child). In the original production at London's Old Vic, the theatre was transformed into the round for an immersive experience, including passing out mince pies and satsumas to the audience before the play began. The play is set to 12 traditional Christmas carols, which are sung throughout the show.
In November 2019, the play transferred to Broadway but it was adapted to suit the traditional proscenium arch stage at the Lyceum Theatre. It was a festive hit, scoring five Tony Awards and a plan to return to Broadway in 2020. However a certain C-word cancelled those plans. But that hasn't held this production back! The play has run every year since its premiere at London's Old Vic (including a live broadcast from an empty auditorium in 2020) and embarked on a US tour in 2021 with Bradley Whitford starring as Scrooge.
And that's just the tip of the Ebenezer Scrooge-shaped iceberg! The enduring popularity of Charles Dickens' festive moral tale continues to provide tons of entertainment not only on stage, but also in radio, film, and television (Blackadder's Christmas Carol anyone?! A brilliant parody and a personal favorite!) So what's next? A tap-dancing Scrooge flanked by the Rockettes? Who knows!
Looking for some more festive reading?! Why not check out our pick of the best Christmas shows!