Broadway is back. London's West End is back. Regional theatre is coming back. Or so we thought. But we have now all been thrown off kilter by the emergence of the latest variant of COVID: Omicron. And boy is it ripping through our countries fast. Both New York and London have some of the highest levels of the Omicron virus and so two of the world's biggest theatrical communities are once more thrown into uncertainty.
While we wait to see just how devastating Omicron is going to be, theatre producers now face two serious challenges: managing shows on a day-to-day basis and trying to encourage future bookings for 2022. Let's take a look at the most recent effects on Broadway and West End shows.
At the beginning of this week, Hamilton, Aladdin, Hadestown, MJ the Musical, and Harry Potter and the Cursed Child all announced that they would remain closed until after Christmas due to the surge in COVID cases. However, the biggest blow came from Jagged Little Pill who issued a lengthy statement on Twitter that they would not resume performances on Broadway and will close indefinitely.
"Yet, the drastic turn of events this week with the rapid spread of the Omicron variant has, once again, changed everything. We are dismayed by what appears to be another substantial public health crisis, and — due to the detection of multiple positive COVID-19 cases within the company — need to prioritize the health and safety of the cast, crew, and entire team working on Jagged Little Pill."

@jaggedmusical
Meanwhile, other Broadway shows are continuing to plough on, despite sporadic cancellations. The Vice President and CEO of Playbill is choosing to look on the slightly brighter side of this gloomy predicament, acknowledging that theatres are being hit hard but noting that "what you're seeing right now is the system actually working brilliantly because every show is testing non-stop" (Eyewitness News).
While this is undoubtedly true and vaccination levels are continuing to rise, what do these closures mean in practical terms for our beloved theatres? Broadway League President Charlotte St. Martin remains positive, confirming to The Hollywood Reporter that there was no possibility of Broadway closing again and she remains upbeat about the number of bookings over the holiday season.
We have absolutely no plans to shut down. We are paying serious attention to the protocols. The other 20 to 30 shows continue to perform because we're following the protocols that we set up, and it shows they're working […] As far as the League is concerned, it's business as usual.

The Hollywood Reporter
Meanwhile over in London, theatre producer and impresario Sir Cameron Mackintosh is deeply concerned. In a statement to the BBC, he revealed that every day is spent wondering whether a show will be able to run that day as increasing numbers of infected cast and crew members need to isolate. However, perhaps more worrying is the effect of the virus on future bookings in 2022, which are currently far below expectations in the West End.
"We've all used our reserves to get the shows back up. At the point that we're trying to recoup some of our losses, we are in a dreadful state".

BBC
This weekend, half of London's West End theatres closed their doors, some forced to make the tough decision with only hours to go before the performance. Laura Pick, currently starring as Elphaba in Wicked, took to Twitter to beg angry audience members to #BeKind as producers, performers, and box office staff (who bear the brunt of audience frustration) grapple to deal with the daily challenge of making the horrible decision to close as new COVID cases spread through the company.
To anyone complaining about last minute show cancellations, we know it's inconvenient, but please understand, a decision like that is never made lightly and is hard for everyone involved. The fact I was already green should shed some light on how late it was for all of us #BeKind

@laurapick91
Meanwhile, the current West End company of Les Misérables came up with a creative way of ensuring that the show went on. Due to cast shortages, there was no cover to play Enjolras and the performance looked set to close if no solution could be found. But an answer was at hand. Bradley Jaden, currently playing Javert, hopped back into a role he hadn't played in two years with only a few hours notice. The role of Javert was covered by his understudy and Jaden picked up his Enjolras' waistcoat once more, while also tackling new blocking that he had never rehearsed. Things may be tough right now, but the tenacity and versatility of the industry's performers remains strong!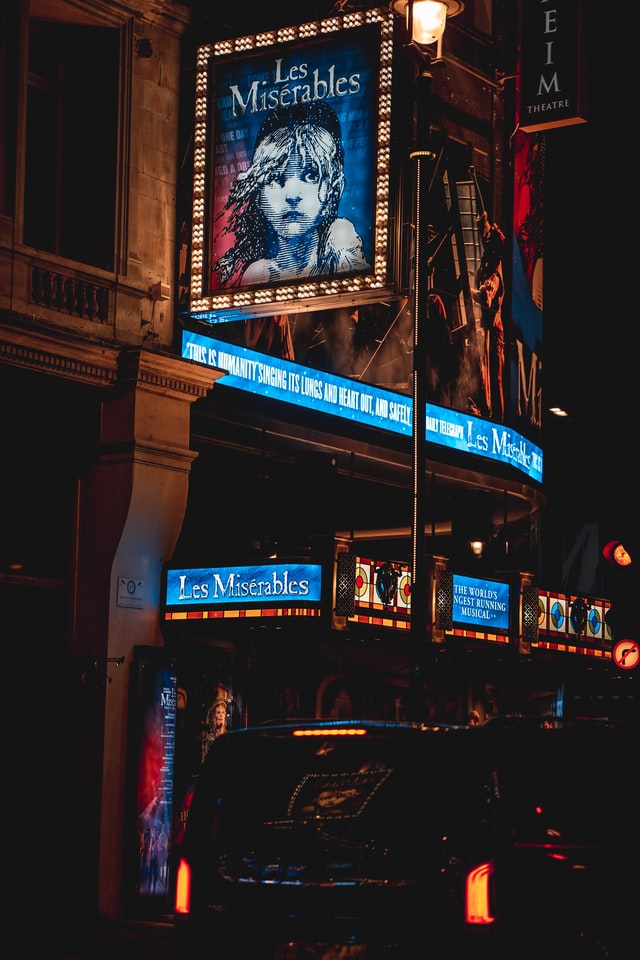 So, as the industry continues to grapple with the current challenges facing theatres this holiday season and beyond, how do we move forwards as audience members? While our support is undoubtedly needed, how do we plan for future theatre trips? Especially if this means traveling across the country. There is no question that theatres must have bums on seats and, after a long period of theatrical deprivation, we are all desperate to be "in the room where it happens". And I have no doubt that those living in New York and London (and every other regional theatre location) will at least consider taking all safety precautions to go and catch a show. But we must also remember that many are nervous or have health issues to consider before putting themselves in a packed theatre with Omicron on the loose.
And what if you have practical and financial travel logistics to consider, are you prepared to take the risk? Both Broadway and the West End rely on tourist traffic and regional audiences coming in from across the country. However, many are now questioning whether to book the trip they had planned as, let's face it, plane/train tickets and hotel stays don't come cheap, and it is currently so difficult to plan for the future. And if we leave booking it to the last minute? Hmm, well that doesn't tend to come cheap either!
Just today (December 12th) Andrew Lloyd Webber announced that he is closing his new musical Cinderella until February, as recognizes the frustration caused by continued last minute cancellations "for our cast, company, and, of course, audiences, many of whom have travelled long distances and spent considerable sums on transport, hotels etc."
So, what do we do? Truthfully? I just don't know, but I think the next few weeks will tell us more as we see how Omicron plays out. I remain hopeful that we can all move forwards and get back to planning those oh-so exciting theatre trips that shine brightly in our calendars!