Here at StageAgent we have had a busy few months launching and building up our exciting New Works Program. Working with a host of new playwrights from across the globe, our catalogue of shows now also features a wide-range of guides for new full-length and one-act plays and musicals. Whether you are looking for a gritty two-hander, a new work for a high school audience, an exciting monologue for an Hispanic actor, or a new ensemble musical, we have it all!
A huge part of the New Works Program has been building up fascinating new relationships with our diverse and inspiring group of new playwrights. We were interested at learning about what inspires them creatively, why they started out as a writer, and the challenges they have faced along the way. Over the course of a series of new blog posts, we will be asking our writers to share their experiences and shine a light on how they set about writing many of the new works that are featured on StageAgent.
So, first up, we are very pleased to introduce the wonderful Marco Antonio Rodriguez!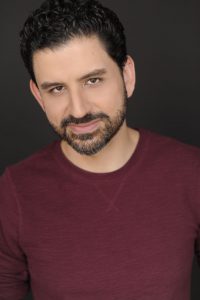 Marco was born and raised in New York City, with roots from the Dominican Republic. His plays have been produced in theaters across the nation and internationally such as Off-Broadway's LATEA theater, Lehman Stages, Dominican Republic's Teatro Las Máscaras and Buenos Aires, Argentina's Teatro La Mueca.
We had a great chat with him about his theatrical influences and the process behind his writing style.
Q: What made you start writing?
A: As an only child of a single mother, I always found ways to entertain myself for long periods of time. The best way was to lock myself in the bathroom (we lived in a small studio apartment in New York with no bedrooms) and record melodramas on my boombox. (Yes. I just said boombox. Totally aged myself!) I would play all the roles. Male and female. My mother was wise enough to just let me express myself. The neighbors thought I was insane. From recording on my boombox, I moved on to writing on the page. Writing has always been a way not only to escape to other worlds but to live in the skin of other people. Explore the good and bad of what makes us tick as human beings. Research and learn new concepts and ideas. Bring healing through laughter, tears, and provocative conversation.
Q: Who or what were some of your major influences?
A: Growing up in the 1980s with a mother who only watched Spanish television, a lot of my influences were the telenovelas of the time which were actually quite good! As the years went on and I was able to watch more diverse television I was influenced by shows such as Buffy The Vampire Slayer with its brilliant mix of comedy and horror. Films such as the Coen Brothers' Raising Arizona, which mixed political commentary with quirky comedy. Moody, epic sci fi films such as Alien or Blade Runner which combined excellent writing with thrills and groundbreaking vision; and broad comedies such as the Abbott and Costello series and Laurel and Hardy shorts. I was also heavily influenced by watching shows like The Honeymooners, I Love Lucy, and The Golden Girls.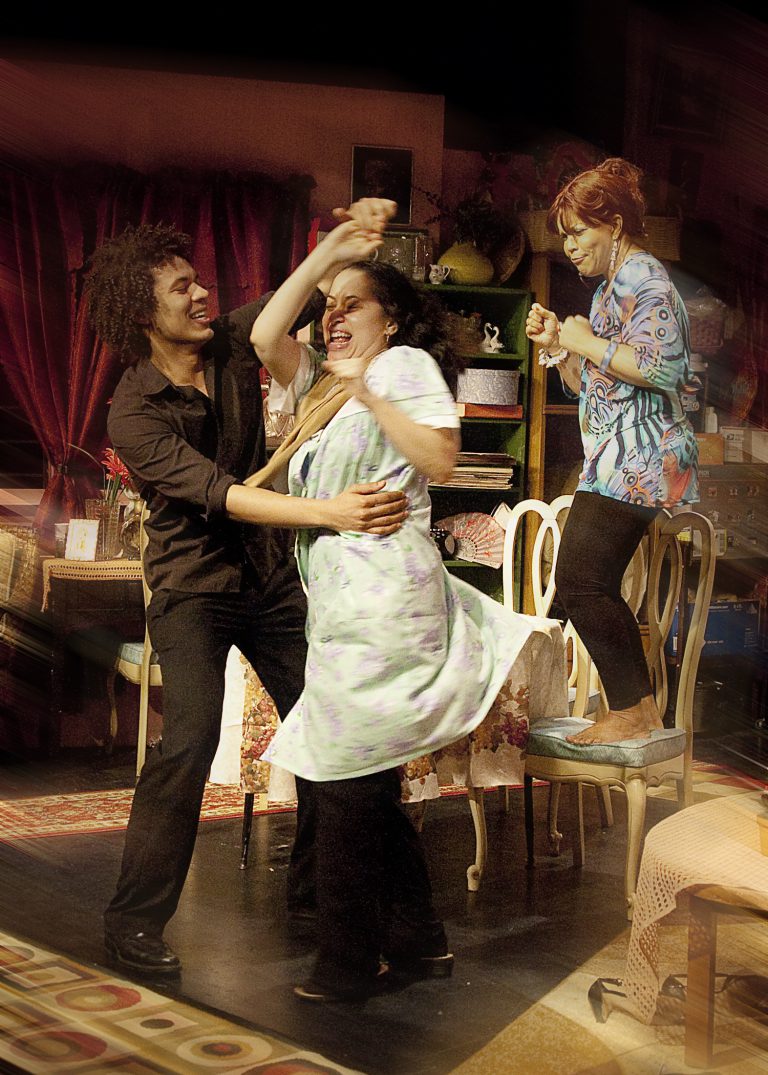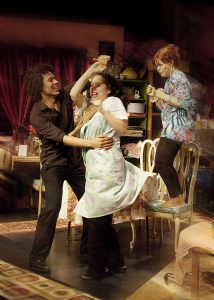 In the theatre landscape, I was lucky enough to go to public schools that would take us to see plays and musicals. I saw a number of shows at La Mama Experimental Theater, Lincoln Center, The Metropolitan Opera, New York City Ballet, Spanish Repertory Theater (in Spanish!), and many Broadway musicals. These experiences developed my diverse palate of tastes and the diversity in my writing, specifically the way I infuse my work with social commentary through humor. Some of my work can be experimental and lyrical or satirical and naturalistic but it is always loaded with humor. I feel humor is a way to draw an audience into your lair, sort of speak. Once you get an audience laughing you have them in the palm of your hand and can really hit them with jugular topics.
Q: Who is your own favorite playwright?
A: Tennessee Williams, Henrik Ibsen, and Anton Chekhov. These playwrights are able to mix realism with humor and social commentary. All three, at one point or another, took risks by delving into more experimental or unexpected work.
Q: What was the first play that you read or saw that made a significant impact on you?
A: I saw a production of A Doll's House by Henrik Ibsen, Off-Broadway. Here I am, this little kid, seeing this VERY adult piece of theatre. I was completely riveted. Perhaps I was hearing echoes of the things I observed in the relationship my mother had with the men in her life. Perhaps it was the fact that I was transfixed into another time yet everything felt so contemporary and personal in its execution. Perhaps I just felt I was a fly on a wall watching these human beings interact with such realistic poignancy. All I know is that after witnessing the slam of the door at the end of that play, the door for me to become a writer came wide open.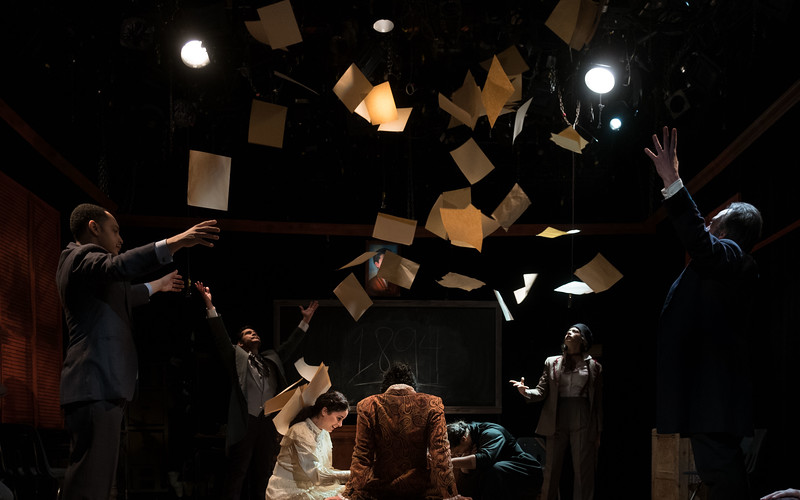 Q: How many hours a day do you write?
A: Depends on the day. Minimum 30 minutes a day. Maximum, five to six hours. If a day goes by that I don't write at all, I don't beat myself up over it. For me, living a balanced life is just as important as the creation of art. Taking time to see friends, a walk in the park, meditate (which I do every day), sing, dance, watch silly YouTube videos… LIVING nourishes the creative process.
Q: Do you have a specific audience in mind when you write?
A: Truth truth truth. My truth. If I'm not feeling it in my heart then it is simply not working and no audience, not matter where they are from, will receive it. I don't write with a specific audience in mind but it does so happen that my roots are from the Dominican Republic therefore a lot of my characters are Dominican. Ultimately, the themes I explore are universal. Although for a brief moment an audience member may not be able to understand what that character is saying because they are expressing a Dominican colloquialism, they can connect with them as human beings.
Q: How do you develop your characters? Have characters you may have cut from one play ended up in another?
A: Each story has its own process. Sometimes I do an outline of the story I am desiring to tell and that's where the characters are born. Sometimes I dive right into writing the story and the characters manifest from there. Sometimes I get inspired by the research I've done for the story or by something I've observed (behavioral or experiential) either in myself or someone else. From there I build the world around that single character.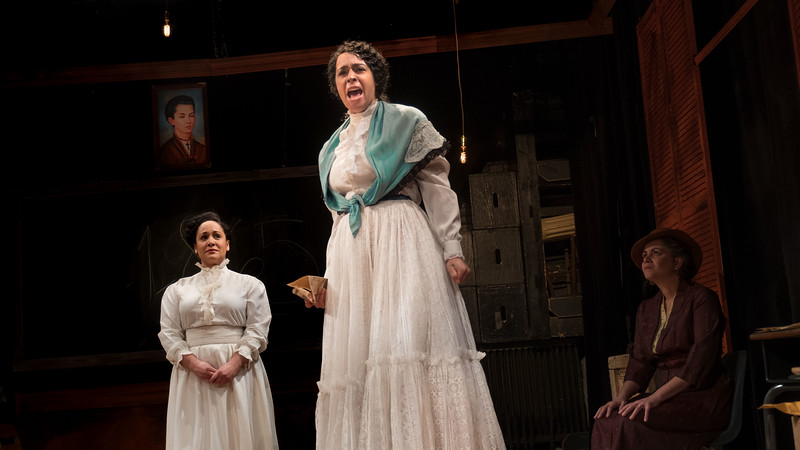 As of now, no characters I've cut have ended up in another story but elements of a specific character do manifest in others because ultimately, as humans, we are more alike than we care to admit.
Q: How much research do you do in the writing of a new play. Does it come before you begin, or as you work through the writing process?
A: Whether it is a historical or contemporary piece, I do A LOT of research before I begin writing a new play and keep extensive notes both in a notebook, where I write things longhand to get them imprinted in my body, and in computer files. If it is something that is very close to my heart such as Ashes Of Light (La Luz de un Cigarrillo), I make sure I immerse myself in the Dominican community or consume anything Dominican. If it is a historical drama, such as Barceló On The Rocks or In The Name Of Salomé, I bury myself in the specific history before I begin. Research helps in story and character development. There may be a piece of history I did not know about which sparks an idea for a scene or a new character I had not thought of. It makes my creative process flow seamlessly.
Q: How do you find the process of getting your plays produced? Do you work in collaboration with a theatre company?
A: It varies. I mostly use the resources at my immediate disposal. I send my plays to close friends for feedback and they usually end up passing it on to someone who passes it on to someone else then all of a sudden, a production or a reading happens! I also make sure to submit everywhere I can. It has become quite easy with modern technology to just click and send to competitions and theatre companies all around the world.
Before I submit, however, I make sure the play has been worked top to bottom! I've made the mistake of submitting work that was not read by anyone and/or had not even had a private reading for me to hear it aloud. BIG mistake! It is important to make sure your play is worked on extensively before you start the submission process. Just because an opportunity says "development" does not mean you can send something that is not quite ready. Gathering a few of your friends to have a private reading of your play and get some feedback is easy, fun and invaluable for the writing process.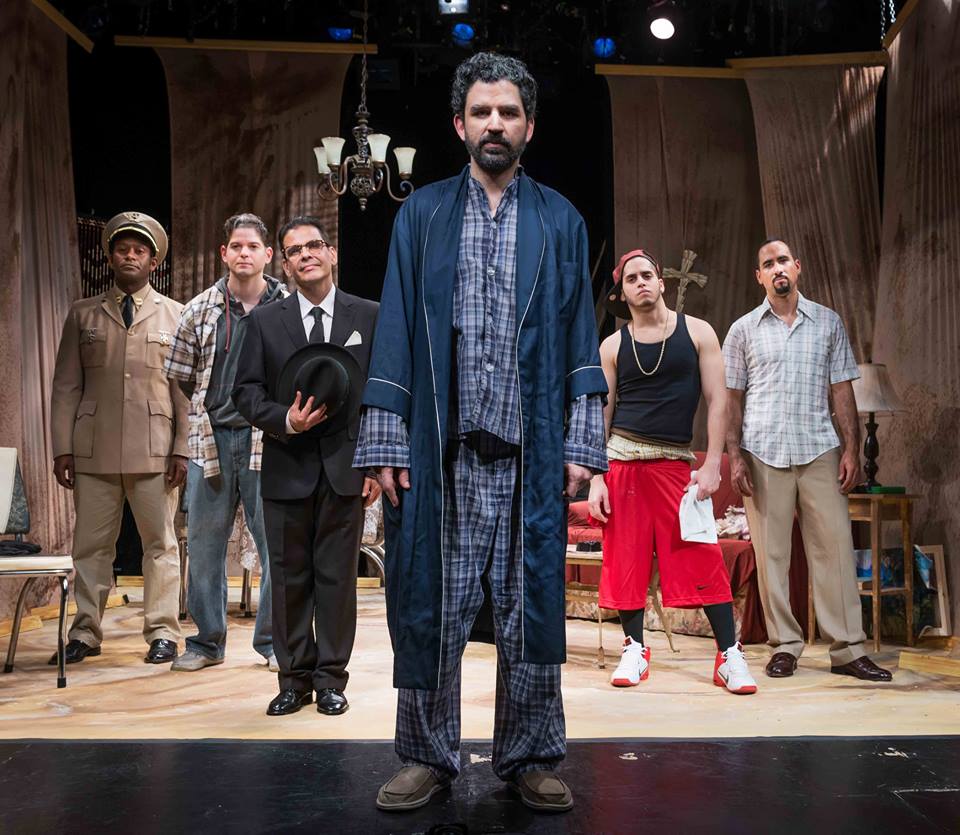 Q: How involved are you in staged productions of your shows?
A: I love to be as involved as I possibly can. A lot of my plays deal with the Dominican-American experience which is something you don't see much of on the American stage. Whether in English or Spanish, there's a certain rhythm, energy and flow to the work that can be challenging to execute even for those who are Dominican.
I also believe that if the playwright is still living, willing, and able, you should take the opportunity to involve, as much as allowed, the person who created this world. Dig into the brain of the person whose words you are bringing to life. It's a balancing act. A dance of sorts. As a writer, you certainly don't want to interfere with a director's vision of your play but you also want to make sure your creation is not being derailed. This is your baby and at some point, you must let him/her "graduate" and be an adult but a good parent always remains vigilant of their children and whenever they can or are invited, contribute to the process. As they say… it takes a village.
Q: In what ways does your Dominican-American background influence the content and style of your work?
A: Depends on the story I am telling. A lot of my work does have Dominican characters so I bring a lot of my own experiences, rhythms, colloquialisms to those specific characters. Even when a character isn't Dominican, I can bring the universality of my own experiences as a human being to it. An advantage I have is I am truly bilingual and have lived in both the Dominican and American world so I can always draw from one, the other or both.
Q: Your plays have been produced in both English and Spanish, in what language do you write initially and how do you find the translation process?
A: Depends on the story I am telling. La Luz De Un Cigarrillo (Ashes Of Light) was written in Spanish first so I could capture the beauty and poetry of the Dominican Spanish and really focus on the struggles of the lead character, Luz, an immigrant who barely speaks English. I had to find an equivalent for the English translation. Of course, I was not able to capture all of the nuances of the Dominican Spanish in the English translation but using a New York, Urban English with sprinkles of Dominican Spanish (and a glossary for reference) gave me some linguistic freedom.
When I worked on the adaptation of Julia Alvarez' In The Name Of Salomé I wrote it in English first because Julia only writes in English then has her work translated by someone else. It was important for me to capture her true voice as a writer in order for that to guide me in the stage adaptation. I read the novel in both English and Spanish and knew right away I had to adapt it in its original English first. It made the process so much easier. I was able to capture the voice of the original narrative and could then write my play.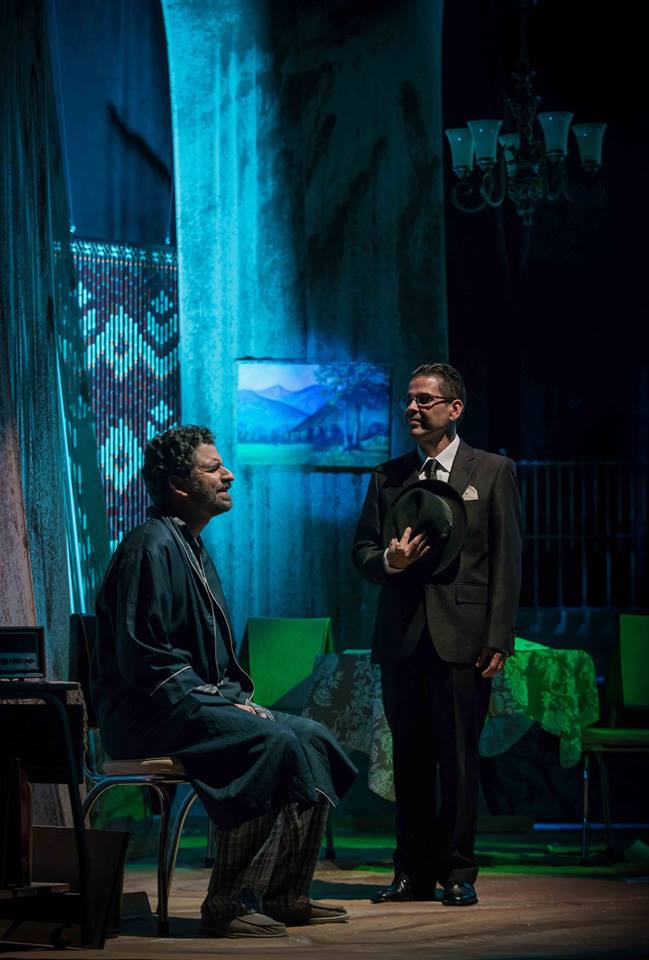 Q: And finally….is there one script that you just can't seem to complete?
A: Not as of yet. Although… talk to me about a screenplay and/or original television pilot I'm satisfied with and you will witness me falling to my knees, foaming at the mouth, fists waving at the air!