This is part one in a two-part series
After all that hard work preparing for your auditions you've received the best news: you got the job! You've been offered a role in a production somewhere! Mission accomplished, right?
Wrong! Here's where the work really starts. It makes no difference if you were offered the role on a pay-to-sing, amateur production, a young artist program (YAP), a summer school, a regional tour, or the Met, the preparation you do before day one of rehearsals will determine not only how well you perform this particular role, but could influence the rest of your career.
The 1%
To paraphrase the great Joyce Didonato: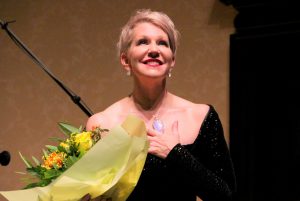 What the audience sees is only 1% of the work you have put in.
So, where does the other 99% come from?
Most professional productions are put together in around six to eight weeks, a touring production might be put together in four to six weeks, but for a YAP or summer school the entire show could be put together in only one week. The focus of this time is getting all the elements to work together on stage, and this needs everyone to be completely focussed and in the game. You will be learning dance routines, forming working relationships with your colleagues, waiting for that lighting cue to be fixed, standing for a costume fitting, and most of all playing and exploring your character on stage. But for you individually, this is probably only about 30-40% of the work on this role.
The other 59-69% comes from you, alone in your practice space, with your score, your books, your headphones, and with your teachers and coaches. That's a lot of work. The great news is any work you put in now will last you a long time, so the next time you get cast in this role, or in another role in the same opera you will have a head start.
How we go about doing this work is different for every singer. I'm going to offer my advice based on how I prepare a role, using my recent preparation of Fidalma in Cimarosa's Il matrimonio segreto for Scheggino Opera Summer School.
Create your timeline
You've accepted the contract and agreed to the dates, so you know when Day One of rehearsals is and, let's face it you've written it on every diary and calendar you own. From that day, work backwards and decide when you'd like to be 'off-book' by. Hint: This is not rehearsal Day One.
I usually prefer to have at least a week or two where I feel 'off-book' before I turn up to rehearsals. Sometimes you won't have the luxury of this amount of time in your preparation, so set yourself a particular day a few days before Day One.
Now, work out how many weeks you have between today and then. Remember, as far as the director/conductor/company are concerned you have had this role since you agreed to do it, and on Day One they really will not be interested in how many other roles you have had to learn in the meantime or what other work has taken up your time. You have had time, and if you have not done the work, there is always someone else who will.
Then map out how you are going to prepare this role across this time. The more time you can put into preparation, the better your experience will be.
I found out that I would be playing Fidalma back in February. From then I counted how long I had until Day One in August: around 6 months. In that time I had 3 auditions, 1 recital, a house move, a trip to France, a family event, my regular teaching, and my writing work for StageAgent to factor in. But, I also know that in June and July I would be in my home studio, with significant time that I could dedicate to the vocal work, so I blocked these days out in my calendar for the vocal preparation, aiming to be 'off-book' by the end of July which gave me just over a week before Day One.
You might think, 'great – I can forget about it until June', but this would be a massive mistake! There is so much more to be done before then, and it all needs to go onto the timeline.
Get to know your score
Find out which score you will be using from the company you are working with and get hold of a copy as soon as you can. Spend a lot of time with the score, marking it up for your practice, taking time to see how your character relates to the others, reading through the music (without playing / practicing), make sure you know what every term or musical symbol means. Part of this task will also inform how much time you want to put into the musical preparation of your role, therefore you may need to go back and adjust your timeline.
As most people do, I started by highlighting every scene Fidalma is in, and putting a tag at the top. The score for Il matrimonio segreto is over 500 pages long, and Fidalma is in about 12 of the 24 scenes, so that's around 250 pages of music and words to learn, that is going to influence how much time I need to spend learning the music.
I used the most recently printed Ricordi score, but in this case there are free scores available online. A good idea if you're choosing to learn from an older score is to borrow the most recent one from a local library and mark up the older one to agree with it. Check your entire line through from start to finish, correct any words that have changed, and notation, rhythm, or dynamics that have changed, and most importantly write in the rehearsal figures from the latest score. The conductor will most likely be using the most recently published critical edition of a score, so having these rehearsal markings can save a lot of time in music rehearsals, or when marking in cuts. I personally did both, I marked up an older .pdf version of the score so that I had a digital copy when I was away from home, and used my Ricordi score alongside it.
The next job, if your score is in a language foreign to you, is to write in the translation for every word. Then write in how you would say that phrase or sentence, to really make sure you understand what is being said.
If your score is in your native language, it is still worth reading the entire thing and looking up any unusual words in the dictionary to check that you understand what every word means.
Take this snippet of Katisha's music from The Mikado for example;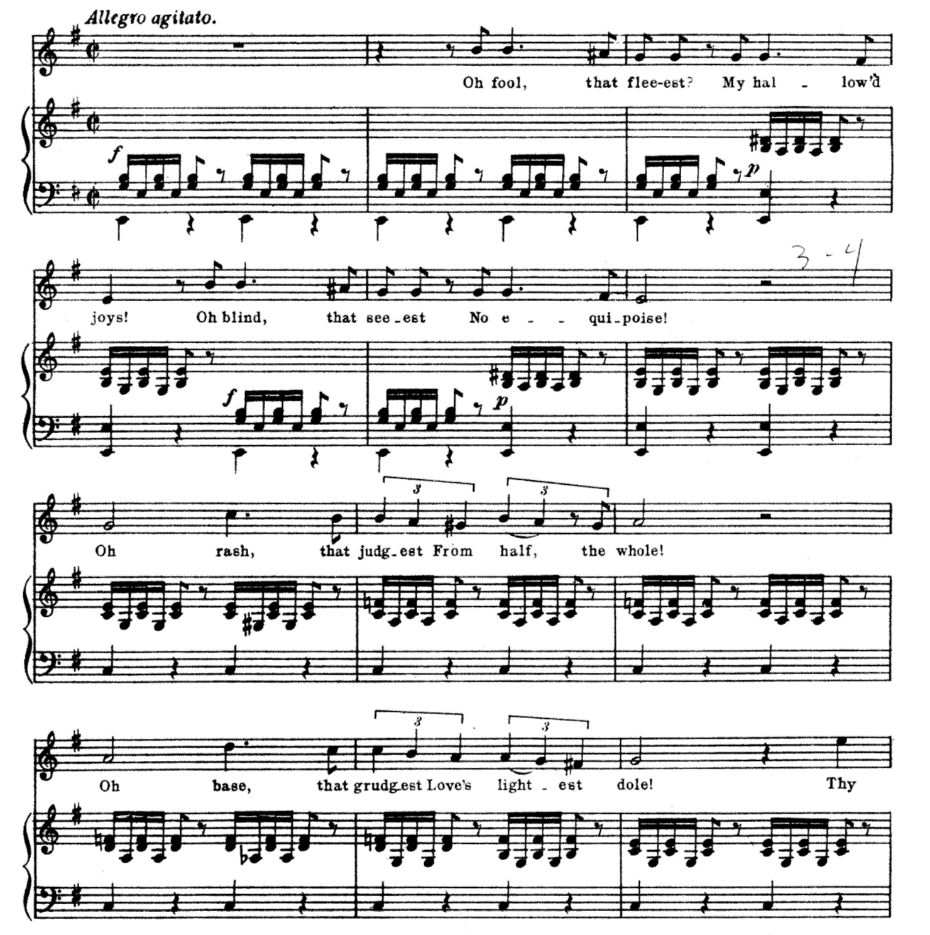 Il matrimonio segreto is in Italian, a language I am somewhat familiar with. However, the libretto is full of archaic phrases and is difficult for even native Italians to understand (think Shakespeare, but in Italian). There is also no handy guide by Nico Castel available for this opera, so I cannot take any shortcuts here, and I have to work with a dictionary and my favorite website of Italian verb charts to muddle my way through.
Knowing what is going on in each scene is vital to understanding the language. Using a guide like the ones available here on Stage Agent is a life saver.
Also, don't use Google translate. It will be wrong. Carolina definitely did not mean to say this:

This can be very time consuming, especially for a libretto this long, but it is really important that you do this for every line in every scene, not just the ones you are in. So much more information about your character appears when you are not on stage.
Boy, am I glad I did not leave this until my last two months of preparation! This work alone took me a good month in my spare time, and my Italian is pretty good. Factor this time into your timeline at the beginning and it will save you a lot of stress.