Currently playing on Broadway until January 8, 2023, we're kicking off with a new favorite! Based on Tim Burton's 1988 creepy classic, Beetlejuice tells the story of Lydia Deetz, an unusual teenager whose whole life changes when she meets a recently deceased couple and a quick-witted demon with a thing for stripes. So, prepare to say his name 3 times and check out our guide to Beetlejuice!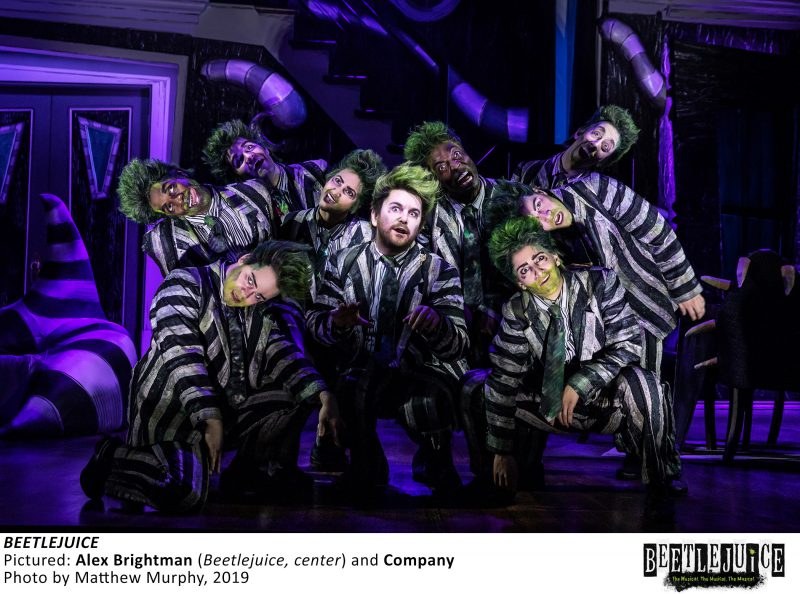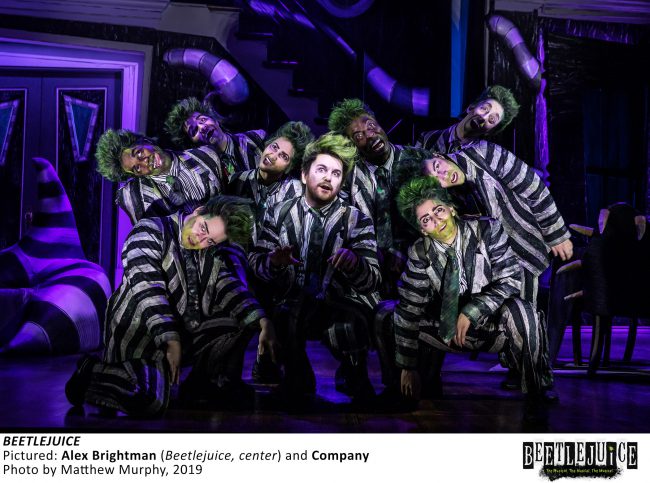 Let's stick with the kooky, macabre musicals and head into the world of The Addams Family! Again, based upon a beloved film, the musical finds our favorite family at a crossroads. Wednesday is now 18 and ready for a life of her own. She has fallen in love with Lucas Beineke, but does a dark Addams gal truly belong with a sweet, smart boy from a normal, respectable Ohio family? Great fun for boys and ghouls of all ages!
Feisty ghosts, seances, and an eccentric medium? It can only be Blithe Spirit! The much-loved farce tells the story of Charles Condomine, a cantankerous novelist who has remarried but is now haunted by the ghost of his first wife, Elvira, following a visit from spiritualist Madame Arcati. When Charles' current wife, Ruth, is accidentally killed, she joins Elvira on the other side to haunt the doomed Charles. Blithe Spirit has been revived many times on Broadway and the West End, with the late, great Angela Lansbury taking on the role of Madame Arcati at the age of 89 for the final time in the last US tour.
From the light-hearted to the thrilling, let's explore Carrie: The Musical. The show centers around teenage misfit, Carrie White. At school, she is bullied viciously for her differences, but she is trapped at home too, with a fervently religious mother. However, Carrie's just discovered she's got a special power and she's not afraid to use it. Based on Stephen King's bestselling novel of the same name, the show is unfortunately renowned for being one of the most expensive flops in Broadway history.
Frederick Knott's psychological melodrama is the perfect Halloween play for a small cast. Tony Wendice married his wife, Margot, for her money and he plans to murder her for the same reason. He has the seemingly perfect plan….or does he? Blackmail, bribery, adultery, and manipulation ensue, only for the murderer to be murdered and Margot to survive. This popular suspense thriller is sure to keep you on the edge of your seat! Find out more with our guide to Dial M For Murder.
It's just not Halloween without the most infamous vampire of all time! Dracula, the Musical has it all: suspense, love, passion, horror, and desire. Bram Stoker's 1897 novel has been adapted for the stage in the more-than-capable hands of Don Black, Frank Wildhorn, and Christopher Hampton. In late nineteenth-century Europe, Dracula lusts for new blood. Young English lawyer Jonathan Harker and his fiancée Mina Murray fall victim to Dracula's unnatural charm. Alongside renowned vampire expert Doctor Van Helsing, they must fight Dracula's supernatural powers once and for all.
A timeless tale of "whodunnit," Agatha Christie's The Mousetrap strands seven strangers at Monkswell Manor during a blizzard. But a police sergeant unexpectedly arrives, worried that a murderer-at-large is among the guests of the Manor. Before he can investigate, one of the guests is killed, starting an investigation into the lives and histories of everyone there. Will the police be able to solve the case before another "mouse" falls? The world's longest continuously running play for over 60 years, The Mousetrap continues to delight and intrigue mystery lovers of all ages.
How could we not include this classic? Come and meet Frank 'N' Furter, everyone's favorite "sweet transvestite from Transylvania"! Born out of creator Richard O'Brien's love of the science fiction and B horror films of his youth, The Rocky Horror Show combines the unintentionally humorous elements of both genres with aspects of schlock-horror films, muscle flicks, and fifties rock and roll music!
If you fancy comic-book fantasy crossed with nasty ogres, homicidal fairies, and a healthy dose of '90s pop culture, then She Kills Monsters is the Halloween play for you! The play follows Agnes Evans grieving for the loss of her teenage sister, Tilly. When Agnes finds Tilly's Dungeons & Dragons notebook, she is thrown into an action-packed adventure in the imaginary world created by her sister. On the way, Agnes discovers more about grief, acceptance, and friendship than she could ever have anticipated.
We're ending on a graphic but camp musical that will send chills down your spine! This stage adaptation of Bret Easton Ellis' 1991 novel centers around Wall Street banker Patrick Bateman. He has impeccable taste, designer clothes, a swanky business card…and dark, unspeakable desires. At the age of 27, he loses control and murders his co-worker. But where will his killing spree end? Read more about American Psycho!
What other fear-filled shows would you add to our spooky list?!