Welcome back to I Wish I Knew, a series of blog posts to help you get some insider information on how to survive, sustain and thrive in this wacky industry! This week I have been reflecting on all of the amazing work that Artists of Color are contributing to the theater world.
2018/2019 has been a big year in regional theater! Tons of artistic directors have been leaving their posts and opening spots for a newer, younger generation of artistic leaders. Although there is still a lot of work to do with equity, diversity, and inclusion in the industry, a lot of regional theaters have selected leaders of color to run their companies! Personally, I am most excited about the many women of color now leading acclaimed theater companies. Some stellar examples include Nataki Garrett at the Oregon Shakespeare Festival, Hana Sharif at Repertory Theater of St. Louis, Maria Manuela Goyanes at Woolly Mammoth Theatre Company and Stephanie Ybarra at Baltimore Center Stage.
These examples and others give me hope that our industry is moving in the right direction and that many of my incredible friends and colleagues are next up to make waves in the theater world. One of my friends, who is already a leader in all parts of her life, is JaMeeka Holloway-Burrell.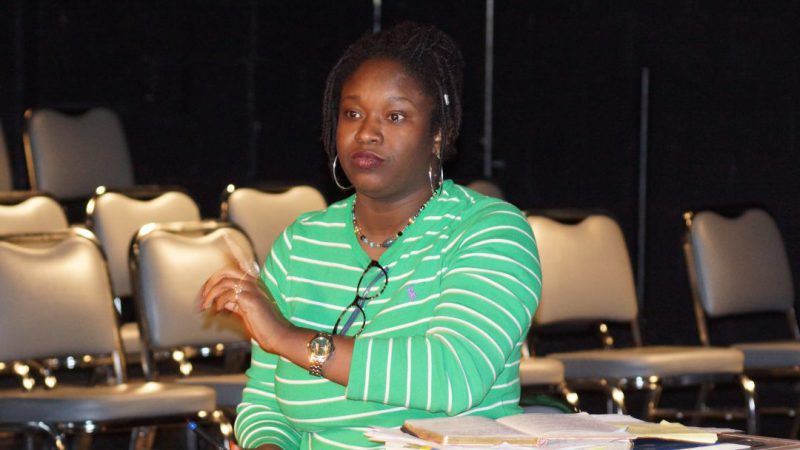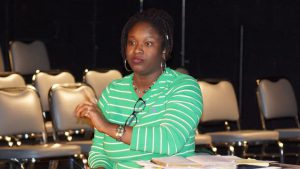 JaMeeka (she/her/hers) and I met at the Oregon Shakespeare Festival when she was a part of the FAIR Program. JaMeeka was assistant director of The Merry Wives of Windsor (an incredible 1980's inspired production directed by Dawn Monique Williams, another phenomenal P.O.C. director) and we were co-curators of the Juneteenth Celebration that year.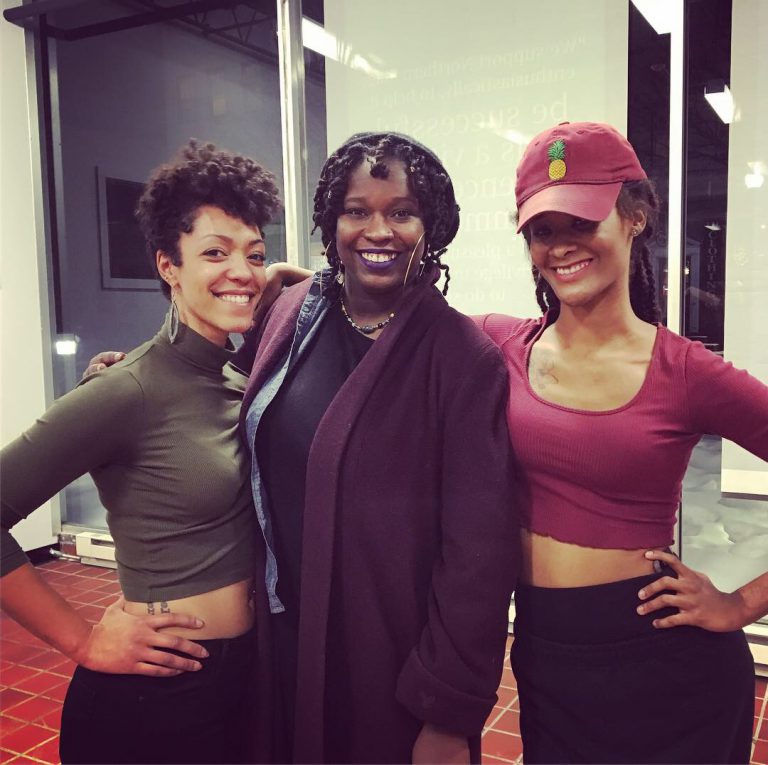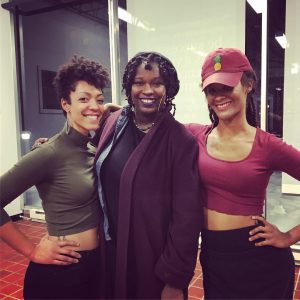 One of the things I learned about JaMeeka is that she is the Founder and Artistic Director of Black Ops Theatre Company in Durham, North Carolina. Some examples of plays they have tackled are Ibsen's A Doll's House and Young Jean Lee's The Shipment. Black Ops Theatre Company's mission is to "foster the growth of and provide opportunities for Black actors, directors, technicians, and administrators." So, right off the bat, I knew she was impressive. The second thing I learned is that along with giving so much to her community, JaMeeka is also a mother AND a freelance director. Are there truly only 24-hours in a day?
If you're as curious as I was about how JaMeeka juggles everything with such grace, read on!
Q: Tell us a little bit about yourself!
JaMeeka Holloway-Burrell, she, herself. A baby sibling, a Cancer, proud member of the Beyhive, Lord of the Rings super-fan, momma to an electric 5-year-old, a witty wife, and a former kicka** stage manager. Now I direct, freelance and with Black Ops, a cool theatre company in Durham, NC that I founded in 2015.

Idiosyncratic, provocative new work with nuanced insight into the subterranean of the human heart and mind delight me most. However, I am no stranger to the "cannon", in fact, Ibsen wrote my favorite play; however, I find myself most at home and passionate about stories that center the lives and experiences of melanin-skinned folks, women, and the non-cis.

Additionally, in 2018 I founded the Bull City Black Theatre Fest and won a 2018 Indy Art Award! In February 2019, along with many other amazing artists, was honored by the NC African American Heritage Commission and Governor Roy Cooper of North Carolina for my contributions to the Arts and Culture Landscape of North Carolina.
Q: When did you first know you wanted to become a director?
Hmm, it's interesting. I'm not exactly sure the moment I wanted to become a director, but I know it was my experience growing up in the Black church that first peaked my creative stimuli.

For folks who've experienced it or maybe just some reenactment on TV or in the movies, you know how performative the Black church can be. I remember finding so much joy in investigating scriptures the same way I'm so ambitious about the time I spend going in-depth with text now. If you want to see amazing storytelling, go to a Black church on Sunday. Watch how the pastor captivates and then takes the congregation on an emotional journey; one that can be painful, illuminating and quite funny at times.

From the music they choose to come before them, to the robes choices they make, to the organ accompaniment during really thrilling moments, it's all highly dramatic & I was always really drawn to that aspect of my experience with church. It really foreshadowed the career I would have in theatre.
Q: What do you love most about being a director? What is your biggest challenge?
What I love most about directing is the collaborative aspect of the job. There is a lot about the work of a director that can be sort of isolating, especially when you're not in the new play process working with a playwright.

In the beginning stages of a process as you're getting familiar with text and your concept, you're on your own, which is also a thrilling part of the process. However, for me, I come most alive in my creativity when I get to be in conversation with other members of the creative team about the unity of this thing we're creating together.

Be it in the room with actors (around the table or on our feet) letting ideas and curiosity be really peaked, or in a lively production meeting with designers, I get joy from the relationships we form and the world we're creating together. The energy of trying to serve and edify the greater vision with other artists is always the most invigorating.

Something I feel really challenged by in directing, and this is specifically related to the work I get to do regionally, is the time that I have to spend away from my kiddo. Working away on a 4-6 week project (which is the minimum time I've spent away since I started to freelance) during the middle of a school year when she can't be mobile with me can be sort of distressing. The mom guilt that comes along with having to miss events or moments really gets to me sometimes.
Q: What is your theater company? What made you want to start it and who is your audience?
My theatre company is Black Ops Theatre—I founded Black Ops (short for Black Opportunities) in 2015 in my hometown in response to the lack of representation I saw on local stages in regards to Blackness. I wanted to create a space where Black artists could be confident in their chances of getting cast and confident that we would responsibly and affectionately tell stories that center Black Experience.

Our audience is the community of Durham and the stories we tell want to engage deeply with our local community. As an artistic director, when I am reading plays and deciding what work I want to present, Durham is at the forefront of my mind. How my community will be impacted by the plays I choose or how I stage them is an important question for me.
Q: What do you love most about having a theater company? What is your biggest challenge?
What I love most about having a theatre company is the relationship we get to build with our local community, and in return, the relationship with live art that the community gets to forge through us.

The biggest challenge for us has been what typically and historically affects Black Theatres and other cultural institutions: sustainability. For the most part, we've operated mostly on our earned income and, being an organization who prioritizes accessibility (meaning little to no ticket prices), that doesn't always give us a lot to work with. So, we struggle with consistency, which is why when Black Ops does show up in the community with a performance or event, we make sure it's with something heart-filled and affecting.
Q: What was your first step when you decided you wanted to start a company? What are some of the actions you take every day to sustain it?
The first step was to actually just do it. I spent a lot of time lamenting about the stories I didn't see on stage. I realized that instead of complaining I could be actionable.

I started by galvanizing a few friends around our first script choice (Young Jean Lee's The Shipment) and that began Black Ops. To help with the initial cost of a first production, our show was a co-production with an older more established organization, who also fiscally sponsored us. They shared many of their resources with us and that experience co-producing introduced us to an audience of theatre goers.
Q: How do you juggle being a freelance director and an artistic director?
It's hard and right now I am not doing a great job at it. Without a team, it's not easy to program at home when so much of the work that pays me most is out town. It's been difficult as of late to juggle my schedule.

The thing is, when I come from a job out of town, my first priority is to spend and make up time with my daughter Ally, and to be as present as possible with my family. I am in the process of doing a lot of soul searching around it.

Currently, I am exploring the idea of becoming an independent producer and operating under fiscal sponsorship. I don't want to feel slave to the concept of producing a season, or the idea that my success is tied to my ability to do so. I love producing and still desire to support my community with art, however, I am more persuaded to produce inside a rhythm that feels more natural to my life needs and other goals. It's okay that I am not trying to be a mirror image of the industry.
Q: What are some things you wish you knew before you became a director?
The significance of self-care, especially during the creative process. If it's manageable, don't wait until "afterwards" all of the time. You're working long hours, sometimes away from family, constantly ruminating on ideas; your brain nor cellphone will take a break unless you tell it to. You also spend so much time being critical of yourself, your artistic choices, and your decisions that it's important to make sure you're checking in on your mental and spiritual wellness. You'll show up better that way.

You will struggle with creativity even during the rehearsal process at times. Lean into the people, places and things around you for inspiration.

It's okay to celebrate yourself. You don't have to minimize your response to your own successes.

"No's" never get easier. And it's fine if you need to speak with your therapist about why you're impacted so deeply by that one particular rejection.

How to properly balance career and personal life. That struggle is still ongoing, but I've decided to be more intentional about being successful at it.
Q: What are some things you wish you knew before starting a theater company?
There is a real art to fundraising successfully. It's important to learn how to engage funders and donors. You want to have a list of follow-up strategies. Develop ways to practice more than just momentary or event centered gratitude. Relationships have to be nurtured. They can't be sporadic.

It's important to pay myself too.

You're not taking good care of yourself if you don't ask for help when you need it. It's okay to be honest about being overwhelmed.

It's not obligatory to model your organization off of the traditional non-profit model. Find a rhythm that works for your budget size, your community and personal bandwidth.

People won't be pleased by everything you do. You won't be pleased with every single thing you do either. Find a way to assess those things that feel like failure to you. There are major lessons to be learned in those experiences. As Nikki Giovanni said "Mistakes are a fact of life. It is the response to the error that counts."

If you show up for the community, the community will show up for you. Artists and arts organizations can't expect from the community what the community can't expect from us.
Q: What is one of the best pieces of advice you've received?
The best advice I have received came through an Octavia Butler quote:

"All that you touch you Change.

All that you Change, changes you.

The only lasting truth is Change.

God Is Change."
Q: Where can people find out more about you? (i.e. website, link to an interview, etc.)
@jhbdirected on Instagram
https://indyweek.com/topics/jameeka-holloway-burrell/