"I had to teach myself how to use a light board before it was Google-able," lighting designer Kevin Landesman tells me as he hits keystrokes on the light board during tech for Beautiful Oops!, a new musical based on the hit children's book. His programing seems effortless, and a long way from where he started as a high school volunteer designing his class' production of Dracula. After that first show, he became the go-to electrics expert in his drama department.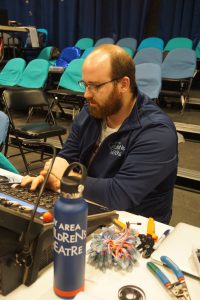 "When I got to college, I had a vague idea I should major in theatre,"  he says with a shrug. "I remembered enjoying lighting design in high school, and liked the connection between problem solving and technology." He worked his way through his small liberal arts state college theatre program exploring a variety of technical departments. "The more well versed one is in multiple areas of tech, the more employable they become." After college, Kevin spent a few months working for small home town theaters before taking a two-year gig on a cruise ship. "It was awful, but I learned about the best lighting equipment, and paid off my student loans two years out of school."
[wp_ad_camp_1]
With zero debt and a greater knowledge of equipment, Kevin moved to the Bay Area, taking every job that came his way. "I worked as an electrician in a bunch of small theaters and corporate events. I was only there 6 months before I got my first full-time job with a theatre." Designing graduate student shows, Kevin left his full time job after a year to pursue design full time. "The barrier to entry in this industry is surprisingly lower than you think." But, it's a lifestyle that comes with trade-offs. Kevin designs several shows at once, sitting in tech week after week with a schedule that doesn't leave room for much else. He uses any downtime to recharge, and his months without work for home projects and travel, spending his free time hiking, seeing plays, and preparing for productions months down the road. It isn't a lifestyle for everyone. "When you work in theatre you get to sit down in a room of wonderful creative people and talk about the details of a production with a shared level of excitement," Kevin's eyes light up, and it's clear he wouldn't trade this lifestyle for anything.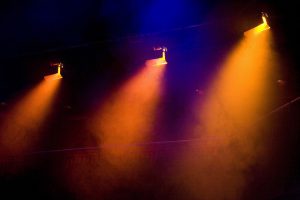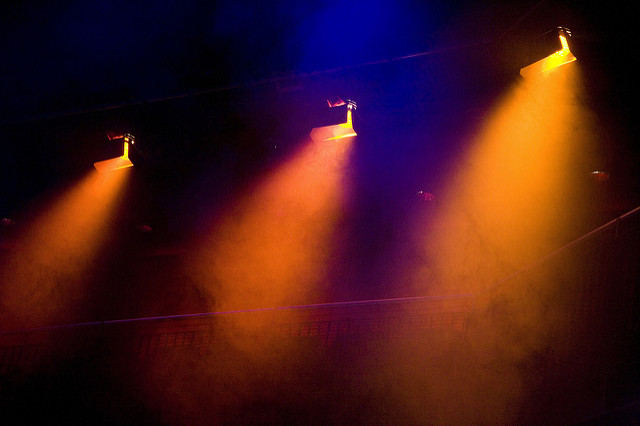 Whether it's as simple as lighting an actor's face for visibility, or a special effect for musicals like Sweeney Todd, a lighting designer's job is all about problem solving. As a full-time freelance designer, Kevin spends at least one, but usually two or three weeks a month in tech rehearsals in theaters throughout California. "It is a hard but absolutely wonderful life. If you're like I was in high school and have any inkling to do theatre, do it." His job as resident designer at Bay Area Children's Theatre gives him black box shows with moving lights, and touring shows with only a few instruments. His other shows range from obscure operas to classics in old San Francisco theaters like Little Shop of Horrors or Noises Off. He dabbles in scenic and projection design as well as production management, and is the operations manager for Bay Area Children's Theatre's performance complex. Some designers teach to fill gaps in their production schedule and income stream, but so far, Kevin has never needed a job outside of theatre. "I have literally never been paid to do anything other than theatre, so I don't know what I would do if I wasn't doing this, but I would hope it involved creative problem solving and an end product to be proud of."
The following two tabs change content below.
Amy is the Associate Costume Director and Hair and Makeup Supervisor at Berkeley Repertory Theatre. A licensed cosmetologist, she spends her off hours writing about beauty and theatre on the internet at http://behindthescenes-beauty.com