Are you looking for a special way to treat your significant other for Valentine's Day this year? Another cinema date for a predictable romcom just isn't going to cut it. So, why not treat them to an opera instead. Whether you catch one live, relayed to your local cinema, on demand, or on DVD, here is our Valentine's Day guide to the best romantic operas, and don't worry, these all have happy endings!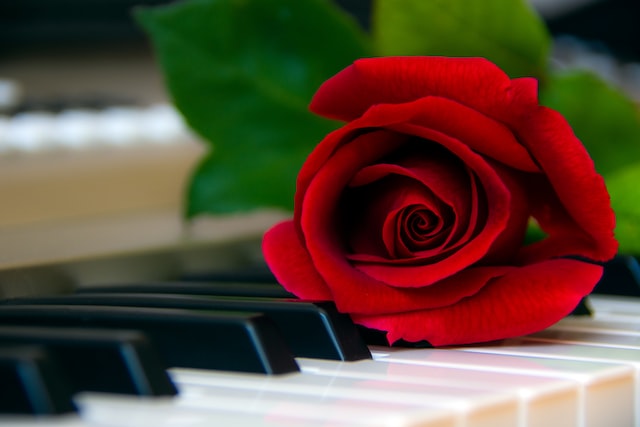 The Weddings
The Barber of Seville
Follow the story of Figaro, the witty barber, as he rescues Rosina from having to marry her elderly guardian, Bartolo, and brings her together with his friend, Count Almaviva. The Count and Rosina fall madly in love and get married right under Bartolo's nose!
The Marriage of Figaro
Figaro and Susanna's wedding day is perhaps one of the most famous and well-loved operas of all time. In the sequel to The Barber of Seville, join them in giving the lascivious Count Almaviva a taste of his own medicine, healing the Countess' broken heart, finding Figaro's parents, and ultimately celebrating their nuptials.
Il matrimonio segreto
In Cimarosa's comic opera, Carolina and Paolino got married two months ago, without telling anyone. Join them in their efforts to reveal their secret and win Carolina's father's blessing, whilst also navigating the unwanted advances of Count Robinson, accusations of infidelity from Carolina's sister, and an Aunt who has her sights set on Paolino.
Fairy Tale Romance
Cinderella
Can there be a better Valentine's Day love story than the classic fairy tale Cinderella? The poor servant girl who wins her Prince Charming is sure to get anyone's heart glowing and full of love.
Try Rossin's La cenerentola, Massenet's Cendrillon, or even Pauline Viardot's Cendrillon for a magical, princess-filled treat.
Iolanta
For something a bit different, why not try the beautiful Russian fairy tale of Iolanta, the blind princess. Kept hidden in her castle, she is unaware of her blindness. However, when Prince Vaudemont trespasses into her garden, he transforms her world by telling Iolanta of the wonderful beauty of light.
The one's who said they never would…
The Boatswain's Mate
Ethel Smyth's 1916 romcom set at The Beehive Inn, is a very cute story of an older, independent woman and a chance meeting with a tall, handsome stranger that has the potential to change her life forever. A real heart-warmer, the final scene of this opera sees Mrs Waters dancing around her kitchen in her apron and nightdress, full of the excitement of this new relationship and completely unaware that her new beau, Travers, is watching her from the window.
A Dinner Engagement
Susan has no interest in meeting the Prince of Monteblanco, despite her parent's insistence. She knows they want her to marry someone wealthy, but Susan isn't even sure if she wants to get married. Imagine her delight to find out that she shares many of the same interests as Prince Phillipe; she loves to cook, and he loves to eat! Another romance that blossoms in a kitchen, but this time over a jar of pickled walnuts.
Beatrice et Benedict
Beatrice and Benedict can't stand each other. They've made that very clear from the beginning. Beatrice wants nothing to do with Benedict, and Benedict is a firmly committed bachelor. It's a good job their friends see right through their facades. Berlioz's retelling of Shakespeare's Much Ado About Nothing unites the quick-witted couple in matrimony.
Was it fate?
The Elixir of Love
Poor Nemorino is completely besotted with the beautiful Adina, but she is far too wealthy and independent to consider him. He will do anything to win her heart, even if that means trusting in Dulcamara, the travelling witch doctor, and buying a love potion. But, is it the love potion, or his newly inherited wealth that finally wins her over?
Serse
Handel's Serse would perhaps not be the first pick for a romantic Valentine's Day opera, but it ticks all the boxes for us. Beautiful melodies, romantic relationships that go through trials and tribulations, and a miraculous turn of events that ends up with everyone marrying the person they love – and it doesn't even feature Hugh Grant!
Don Pasquale
Ernesto and Norina are made for each other, but without his inheritance Ernesto cannot afford to marry her. Instead, they come up with a plan to fool Ernesto's uncle, Don Pasquale, into giving Ernesto his inheritance, and his blessing to marry Norina.
La fille du regiment
Although madly in love, everything seems to be against Marie and Tonio. As an orphan, Marie was brought up by the 21st Regiment, and it turns out that Tonio is one of their enemies. To top that, after years with no family, Marie's long lost aunt turns up and takes her away from the army, with the intention of marrying her off into a wealthy family. Tonio and the soldiers turn up to rescue her just in time, and true love wins the day.
The one with a bit of everything!
Der Rosenkavalier
Although it starts with the ending of a passionate affair between The Marschallin and Octavian, Der Rosenkavalier is arguably the best choice for a Valentine's opera. Octavian is 'the knight of the roses' whose job it is to take a marriage proposal to the beautiful young Sophie on behalf of the awful old Baron Ochs. It is love at first sight for Octavian and Sophie, and through all the following capers, which see Baron Ochs punished for his bad behavior, their relationship remains true.

To top all of that, the opera is something of a hit for inclusivity; it is no accident that the main love triangle in the opera was written for three female voices.
And finally, for any singles out there…
If you're alone this Valentine's and looking for a good old weepy, grab the tissues and the Ben and Jerry's, and give these classics a try: