Historically, cross-dressing in the theater is fairly common-place, and in opera, this is no different. Early baroque operas often featured comic nurses that would be played by male singers, such as the role of Arnalta in Monteverdi's L'incoronazione di Poppea, written for a high tenor or low contralto. Young princes and kings would often be played by female singers, as it was the only practical way to have a high voice portraying these young male characters.
However, in the mid-16th century, the Catholic church in Italy banned women from appearing on any Italian stage. Italy was the world leader in opera at the time, so the opera world was at a loss: who would sing the high notes? In churches, trebles (boy sopranos) had been doing the job, but it was difficult to imagine children playing great warriors and kings. Their voices were also time limited, as soon as these boys hit their teens, they could no longer sing the notes. What they needed was someone who looked like a man, but could still produce high pitches.
The solution was gruesome: castration. The theory followed that if the boys' voices were never affected by their teenage hormones, they would keep their beautiful high notes, and be able to retain a lifelong career. Across the late-16th and 17th centuries, thousands of boys under the age of 12 were taken to the surgeon in the hope of preserving their sound. The promise of fame and riches was unimaginable to most: boys were often sold into the practice by poor families, with the hope that their success would bring the family back from poverty.
The tragic truth is that an estimated 80% of these boys did not survive the operation, and of the ones who did, it was only effective in a limited number of cases.
The few who managed to retain their youthful voices, had incredible careers waiting for them. Every composer in Europe, that was writing opera in an Italian style, was writing roles for these singers. Vast sums of money were offered for them to feature on the biggest stages of the world.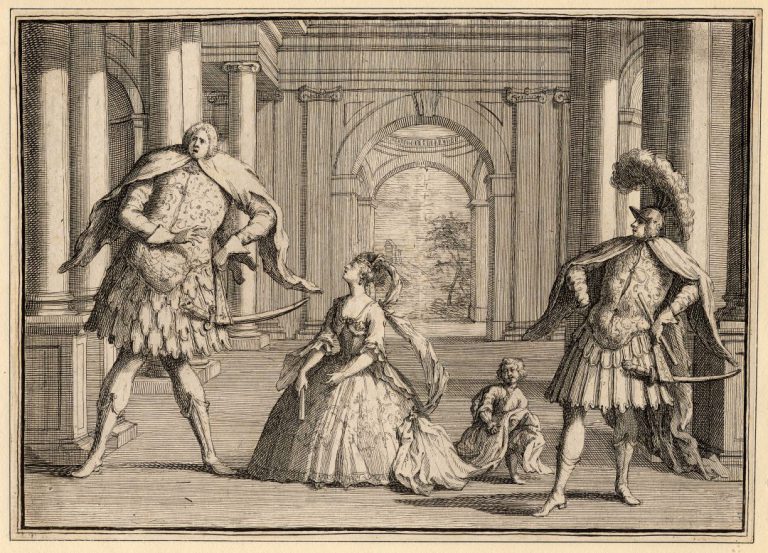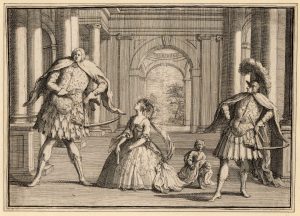 Names like Senesino, Farinelli, and Pacchierotti would draw enormous crowds to the opera, playing the young heroes and brave knights. They were the stuff of legends, the huge Hollywood stars of their day. Their fan base was enormous, and the history books tell us they were considered exceptionally attractive, to both men and women, for their often androgynous appearance.
But what about the women?
One of the greatest and most prolific composers of Italian opera at the time was, of course, G.F. Handel. Being based in London, where there was no such ban on women being on stage, Handel was still writing roles for leading ladies, who would stand opposite the castrati: Francesca Cuzzoni would play Cleopatra opposite Senesino's Giulio Cesare.
Now, a great irony was also exposed. The castrati called for huge salaries, and often companies simply could not afford them. Giulio Cesare actually has four male roles for high voices ( Cesare, Tolomeo, Sesto, and Nireno) but at its premiere only three castrati were used, as the production budget would not stretch to the salaries of four. The role of Sesto was played by a female soprano instead. Where castrati were not available, female singers were ready to step in, albeit for a much lower salary.
Frustratingly, although the opera stage accepted the necessity of singers taking on different gender roles, it was not the case for every performer. At the final performance of Handel's Alcina, which features a female character disguising herself as a man as part of the plot, the famous French ballerina Marie Salle actually had her career in London ended, simply by appearing as Cupid, in a male costume.
In the late 18th century, the practice of castrating boys to preserve their voices was made illegal. Of course, it was still practiced well after this time and reportedly right up until 1870, with the last successful singer being Alessandro Moreschi who had the operation in 1865, at the age of seven. He can actually be heard here in a recording from 1902:
Gradually the voice type died out, leaving thousands of roles for high-voiced male singers, which would be subsequently be taken on by women of all voice types, until the countertenor voice grew in popularity.
Today
Subsequent composers returned to the practice of having young men portrayed by women. In Mozart's very famous opera, The Marriage of Figaro, the teenage Cherubino was written for soprano Dorotea Bussani. Rossini, who reportedly hated the castrato sound, wrote many heroic and comic roles to be played en travesti, such as Arsace, Tancredi, and Pippo. Before long, the tradition had returned; across the world of opera, women were now the pageboys, boyfriends, heroes, and princes; they became Romeo, Orsini, Le Prince Charmant, Oscar, Siebel, Hansel, Octavian and many others.
Many famous female singers who are at the height of their career now, particularly mezzo-sopranos such as Alice Coote, Sarah Connolly, Joyce Didonato, Elina Garanca, and Tara Erraught, cut their teeth and made their name in the opera world playing these 'pants' roles.
https://www.theguardian.com/music/2015/may/13/alice-coote-mezzo-breeches-roles-my-life-as-a-man
Similarly, although not anywhere near as prevalent, men continued to take on 'skirt' roles. Perhaps the most notable is the role of the Witch in Hansel and Gretel, which has been played by sopranos, mezzo-sopranos, tenors, and baritones, depending on the production.
This long and brutal road, created by dangerous levels of gender inequality, has actually now produced something particularly special. Hundreds upon hundreds of love scenes in the most famous operas are regularly performed between two women. Whether that is Giulio Cesare and Cleopatra:
Cinderella and Prince Charming:
Romeo and Juliet:
Or Octavian and the Marschallin:
And finally…
Turning the tables completely on their head, female baritone Lucia Lucas just made history as the first transgender singer to perform a lead role on an American stage, taking the lead role in Don Giovanni at Tulsa Opera.
Check out this exclusive interview to find out more about Lucia:
https://slippedisc.com/2015/06/exclusive-my-life-as-a-transgender-opera-singer/