Pratfalls and Other Serious Business 
Many people don't know that New York City's Broadway theatres participate in a long-standing tradition of stage door trick-or-treating.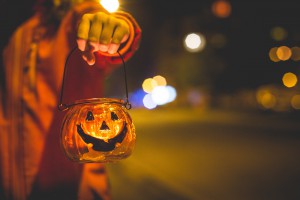 Come October 31st, anyone can don a Halloween costume and knock on any Broadway stage door, at which point the trick-or-treater will be given a fun-size candy and a quick audition. Here's what to expect this year:
The treat: Green apple licorice
What to prepare: "Your
best 16 bars
, with a contrasting selection — if asked."
The treat: Marshmallow ghosts
To prepare: "Seeking replacements for ensemble singers with ballet skills. Self-choreograph a 30-second ghost dance. Please make sure we can see your feet, even though this is not traditional for ghosts."
The treat: Edible red sequins
To prepare: "16 bars of 'Ghouls Just Wanna Have Fun' or another Cindy Lauper song with a Halloween pun wedged in."
**Not participating, British people do not have Halloween.**
The treat: Paydays
Looking to see: "16 bars of
'The Circle of Life'
as sung to a small pumpkin you have carved into Simba."
The treat: Tony-award shaped popcorn balls
To prepare: "A self-written
monologue
of 60 seconds or less about the unusual experience of growing up in a funeral home and/or being in a show with so many women on the creative team."
The treat: Bars of actual gold
To prepare: "Please sing the entire score from start to finish, for we know you can."
Please note: none of this is real. (I was told I had to add this to prevent people from bringing Simba pumpkins to the Minskoff, or thinking they could digest sequins.)
The following two tabs change content below.
Megan is an NYC-based actor, singer, writer, and improviser. When alone in an elevator, she is doing all of these things full-out. Learn more on her website http://www.meganloughran.com.