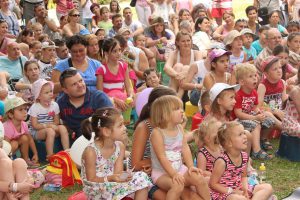 Children's Theatre gets a bad rap. It isn't just productions of Annie, cast with future child stars, or Shrek, performed by a company of 12 year olds. People say, "It's for children; adults just have to sit through it." Or, even worse, some think it's a fluff genre, with no substance. It's as if a play for children doesn't merit the same artistic credibility as a play for adults. Glitter, polka dots, and silly songs, can't compare to Brecht, Stoppard, and Mamet.
These misconceptions couldn't be further from the truth. Theatre for Young Audiences (TYA) is making waves, breaking molds, and giving artists endless creative opportunities fostering the future of theatre.
For Performers:
How often do you get the opportunity to personify a crayon? How about playing a ladybug? My guess is, not very often. But in the wonderful world of TYA, wacky, strange, and thoughtful roles exist in every production. There are no boring bit parts. The work is hard, but it's worth it. Every role matters, and the audience will make sure you know that.
Kids are the toughest critics. They see the joy and truth in the world the rest of us have forgotten. There is no dumbing down of scripts for TYA—audiences are young, but sophisticated. They don't laugh when adults laugh. They sense actors emotions, and they know when performers aren't giving 100% to their character. Acting for an audience of K-12 gives actors a thicker skin, while landing a special level of celebrity status. YOU are the infamous Fancy Nancy, or Pippi Longstocking, or Frog and Toad those children have spent so much time reading about, dressing up as, or dreaming to meet someday. You've brought their fantasies to life in front of them, no TV set required. That, my friends, is magical.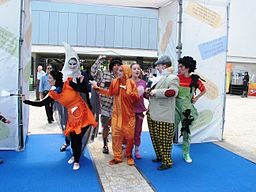 For Lovers of New Work:
Children's publishing never has a dry spell. More picture books, chapter books, and epic rhyming poems take the page every year, ready for theater adaptation. Age-appropriate adaptations based on the classics is over—all the cool books become plays now. Nothing boring, nothing you wouldn't want to watch yourself. Plays for children are no longer, strictly, plays for children. They are as smart and insightful as the books they are based on. Fly Guy, the story of a boy and his fly best friend; Fancy Nancy, the girl that loves to dress fancy; and the crazy adventures of Ivy and Bean are nothing like the stories that used to take the stage.
Authors are optioning their book rights to individual theatres or group of theatres, with plans to develop, write, and coproduce world premieres. We're talking cutting-edge theatre about flies, spies, buddies, and bullies. This not only gives playwrights and directors the opportunity to develop new work, but it also gives designers the opportunity to be the first to create these characters and their environments. The rate at which TYA new works are being made today is staggering in comparison to the number of plays and musicals written for adults that hardly see a workshop let alone an actual stage. TYA new works are getting produced, period.
[wp_ad_camp_1]
For Artists Looking to Make a Difference:
For many children, their first TYA experience is their first theatrical experience. Some parents might not be theatregoers themselves, but want to seek out enriching family experiences. The chances of those children and those adults seeing more theatre after their TYA introduction is huge. Future theatre audiences are cultivated during each performance. Early exposure to the arts sparks creativity in future innovators of the world. The children are our future, and TYA gives them an early introduction to the arts.
For children whose might not be able to afford shows, many TYA companies hold student matinees. Teachers have the opportunity to expand curriculum—focusing lessons around a play's original book and themes, before and after seeing the show. Kids experience theatre etiquette and art appreciation, making connections between their lives, their books, and an art form they otherwise might never experience.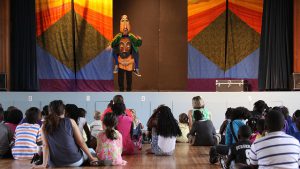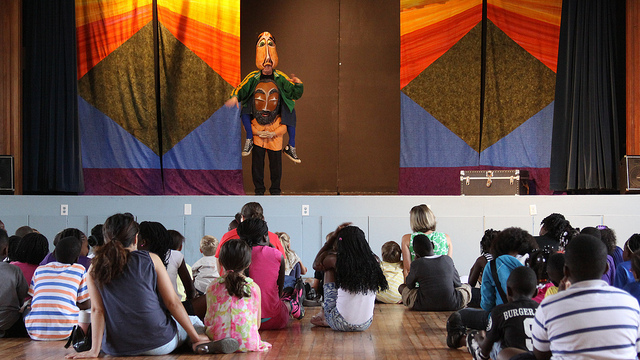 For Fun-Seeking Artists:
At the end of the day, we play pretend for a living. But, sometimes it's nice to know the playing doesn't have to be so serious. Developing, producing, and performing works for children challenges in the adult brain. Will this musical number hold the attention of a five year old? If not, how can we make it? Does this costume read as cat, but also give the audience a human to identify with? Is this lighting too scary? Can we get a grant to fund more scholarship field trips? These are questions asked every day in the world of TYA. The work is still hard, but after every performance, the entryway fills with dozens of excited little voices, ready to meet their favorite characters, read more stories, and eventually see more plays.