You have heard of Shuffle Along, I mean Audra McDonald was incredible in it, right? That show stopping high-kick at the end of the company's 2016 Tony Award performance was incredible…especially when you consider that she was pregnant at the time. A brilliant show that is not the Shuffle Along we're chatting about today…
In fact, the 2016 show honors and celebrates the incredible impact of an all African-American musical in 1921 that rocked Broadway and changed the future of black musical theatre performers forever. Shuffle Along was the brainchild of the musical collaborators, Eubie Blake and Noble Sissle, and comedy duo, Flourney Miller and Aubrey Lyles. The show was a breakthrough on Broadway as it was not only written, staged, and produced by an entirely African-American team, it was also the first to feature a sophisticated and credible love story between two black characters.
However the show did not emerge on Broadway as a fully-formed hit. None of its four creators had ever written for Broadway before and there was a considerable amount of skepticism as to whether such a musical would appeal to the 'typical' Broadway audience. Would anyone actually come and see it? With little money to pay the cast, let alone cover any other costs, Shuffle Along set off on a short tour through New Jersey and Pennsylvania before coming to the Great White Way in May 1921. By this point, the show was $18,000 in debt.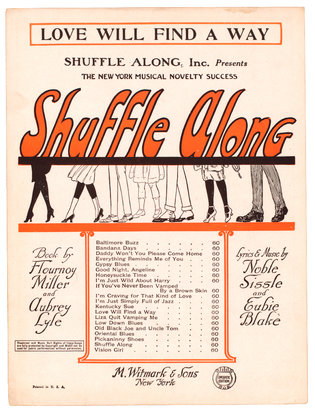 May 1921 wasn't the greatest time to launch a new, potentially divisive musical, all things considered. The post-war depression was still lingering and would not begin to lift until a couple of months into Shuffle Along's Broadway run. The show also faced huge competition from the popular George White's Scandals and Ziegfield's latest musical, Sally (with music by Jerome Kern). Yet the team persevered. They hired the Cort 63rd Street Theatre, a small theatre on the very edge of Broadway that had only just been converted from a music hall and cinema into a theatrical venue. There was no orchestra pit, so the first three rows of seats were pulled out to make way for the band. Theatre critic Lester Walton described the theatre as "sandwiched between garages and other establishments representative of the automobile industry, [which] was little known to the average Broadway theatregoer". But, nonetheless, the show went on and soon generated a huge buzz.
Fun fact: The entertainer and civil rights activist Josephine Baker appeared as one of the dancers in the 1921 Broadway production of Shuffle Along.
Shuffle Along drew its audiences in with a vibrant jazzy score and a 16-girl chorus line known as the Syncopation Steppers. While the plot and dialogue were not exactly groundbreaking (and the two comic leads continued to perform in blackface), the love story between Harry Walton and Jessie Williams was uncharted territory. How would white audiences react to two black people falling in love on stage? Their romantic ballad "Love Will Find a Way" emerged as a huge hit and audiences demanded encores. Noble Sissle later admitted that he was nervous before the opening night and feared being run out of town when actors Roger Matthews and Lotti Gee began to sing.
But the biggest hit by far was the toe-tapping "I'm Just Wild About Harry". Now a well-known jazz standard, the song was almost cut from the show as it didn't work as a sedate Viennese Waltz. However, when Lottie Gee suggested transforming it into an uptempo one-step, a hit was born.
Shuffle Along ran until July 1921 and was a huge financial success. After leaving New York, the show toured the nation and became the first African-American musical to play in white theatres across the country. Shuffle Along brought black jazz communities and white Broadway audiences together in a way that had never been seen before. Langston Hughes (who saw the production as a student in 1921) later defined it as the beginning of the Harlem Renaissance.