StageAgent now features over 1000 professionally-written guides, designed to help you discover more about the plays you love and discover new ones.  Here are a few things you might want to know to optimize your experience using StageAgent.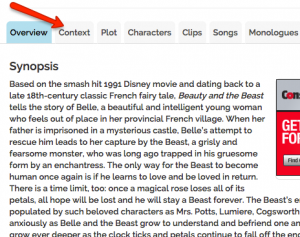 Click on Context to find out more about how the play or musical first came about, historical and dramaturgical information relevant to the production, and production history, including unique stagings or interpretations that put a unique twist on the traditional text.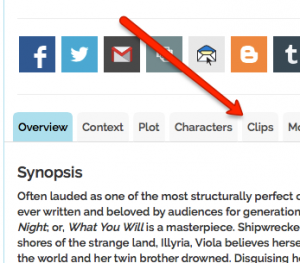 Click on Clips to find numerous performance clips from a range of productions (and sometimes you can even view the entire play online!)  There are even more clips of individual characters' performances to discover when you click on individual character descriptions.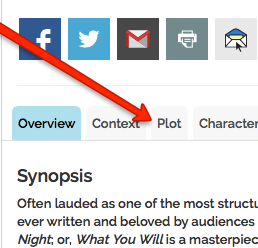 Don't have access to the script before an audition?  Need the context quickly for a particular scene in acting class?  There is a short synopsis of each play available on its Overview page, but if you click on Plot, you will find a detailed, scene-by-scene synopsis of the entire play.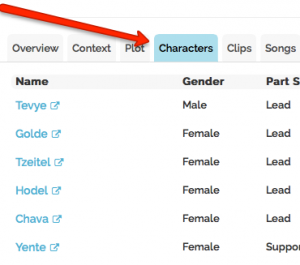 Click on the Characters tab to find a full list of all characters involved in a particular production.  Click on an individual character, and you'll get more detailed information about the character, character clips, and also information about doublings used in other productions.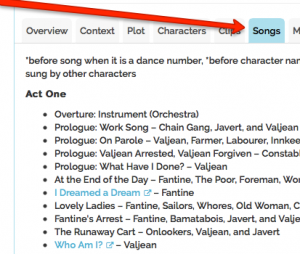 To see the full song list for a musical, click on the Songs tab.  There will also be hyperlinks to songs in the show that might be particularly suitable for an audition.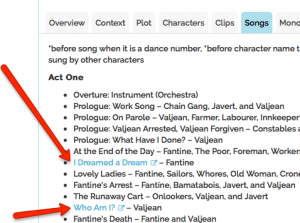 Click on any song that has a hyperlink, and you will find clips of the particular song, background on the context in which it is sung, the vocal range of the individual songs, and clips of different people performing it.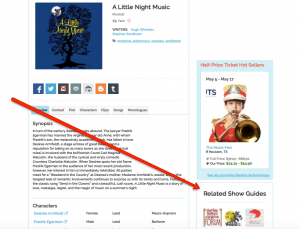 Do you have a favorite show?  Want to find more like it?  In the right hand column on the Overview page for your favorite play or musical, StageAgent will suggest Related Show Guides in which you might have an interest.  For example, someone who is a fan of A Little Night Music might also love Into the Woods.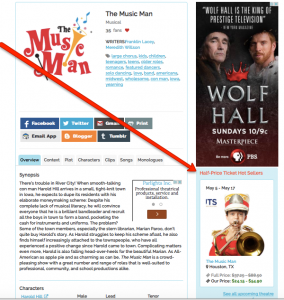 Have you been reading up on a play and would really love to see it?  In the right hand column on the Overview page, we list opportunities for discounted tickets to local productions of the show you're reading about or related shows, under the title Half-Price Hot Ticket Sellers.