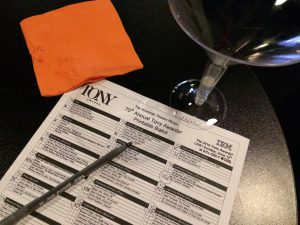 So, that's the 70th Annual Tony Awards in the books, and it was a great night! I spent the evening with about a dozen friends–several teens included–and we had a viewing party at my arts conservatory with the show projected on the big screen in our theatre. It was awesome! It was like we were in the Beacon Theatre, well, except that we had snacks and weren't quite as dressed up as the Tony-goers were. And our ballots weren't quite official.
We gathered around 7:00 PM with the red carpet arrivals playing on a monitor in our lobby, while a 60 Minutes episode featuring Hamilton coverage was streaming on the big screen. For only a dozen people, we had food enough to feed a small army. It's so fun to see what people bring to a potluck! From roasted garlic chickpea snacks and chocolate-covered Oreo cookie balls to chili cheese dip and this crazy good grape salad (yes, you heard me, grape salad–with cream cheese, brown sugar, and pecans) and other healthy and not-so-healthy munchies. And to top it off, we had margaritas, Prosecco, and a chocolate fondue fountain — classy, eh?
So on to a quick recap (see complete list below). Hamilton didn't break The Producers 2001 record, but it still won eleven of the sixteen awards including (as should have been pretty obvious) Best Musical. The Humans won four awards including Best Play. The four primary acting categories were all won by actors of color (three for Hamilton, one for The Color Purple)–a historic first for the Tonys, and James Corden was a terrific, charming, slightly silly host.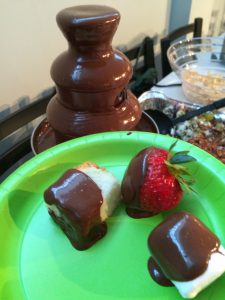 After a somber opening speech dedicating the evening's show to those killed in the Orlando shootings late Saturday night, Corden in his delightful opening number spoke to something I mentioned in my previous Tony blog: that for many kids watching the Tonys every year, this was a chance to see Broadway in action and maybe even dream about being a Broadway star. Our little viewing gang of performers, parents, and kids in performing arts school agreed and cheered loudly when the number was over.
All of the performances were top notch–although due to a little glitch in streaming, we didn't see all of the Waitress number–gonna need to find that on YouTube later. We were all thrilled to see a young student and friend rocking the house as part of the children's cast of School of Rock, both in the main telecast number and the fun little bumpers they were doing out in front of the theatre throughout the night. Our kids (and a couple of adults) were all right down front on the floor for the Hamilton numbers and singing/rapping during commercial breaks. The grown-ups in the room gave a pleasant shout of surprise when Frank Langella won for The Father, and applauded loudly for Jessica Lange and her award for Long Day's Journey into Night. And we all laughed when our youngest viewer, upon Broadway legend Angela Lansbury's entrance, said, "Oh! That's the lady from Mrs. Santa Claus!" It was a good reminder that Broadway always has its classy past to lean on, but the future, as demonstrated last night,  is wide open with possibilities.
[wp_ad_camp_1]
Complete List of 2016 Tony Award Winners
Best Play: The Humans
Best Musical: Hamilton
Best Revival of a Play: Arthur Miller's A View from the Bridge
Best Revival of a Musical: The Color Purple
Best Book of a Musical Hamilton: Lin-Manuel Miranda
Best Original Score (Music and/or Lyrics) Written for the Theatre: Hamilton
Best Performance by an Actor in a Leading Role in a Play: Frank Langella, The Father
Best Performance by an Actress in a Leading Role in a Play: Jessica Lange, Long Day's Journey Into Night
Best Performance by an Actor in a Leading Role in a Musical: Leslie Odom, Jr., Hamilton
Best Performance by an Actress in a Leading Role in a Musical: Cynthia Erivo, The Color Purple
Best Performance by an Actor in a Featured Role in a Play: Reed Birney, The Humans
Best Performance by an Actress in a Featured Role in a Play: Jayne Houdyshell, The Humans
Best Performance by an Actor in a Featured Role in a Musical: Daveed Diggs, Hamilton
Best Performance by an Actress in a Featured Role in a Musical: Renee Elise Goldsberry, Hamilton
Best Scenic Design of a Play: David Zinn, The Humans
Best Scenic Design of a Musical: David Rockwell, She Loves Me
Best Costume Design of a Play: Clint Ramos, Eclipsed
Best Costume Design of a Musical: Paul Tazewell, Hamilton
Best Lighting Design of a Play: Natasha Katz, Long Day's Journey Into Night
Best Lighting Design of a Musical: Howell Binkley, Hamilton
Best Direction of a Play: Ivo Van Hove, Arthur Miller's A View from the Bridge
Best Direction of a Musical: Thomas Kail, Hamilton
Best Choreography: Andy Blankenbuehler, Hamilton
Best Orchestrations: Alex Lacamoire, Hamilton