If you're an actor who's been reading Rob's wonderful series on National Tours, you're probably well-primed for getting out there and booking one. Once you have, congratulations! But whether you have five days or five months before you leave, there is a lot to think about.
Having just gotten off the road with my fourth big tour, I have some advice: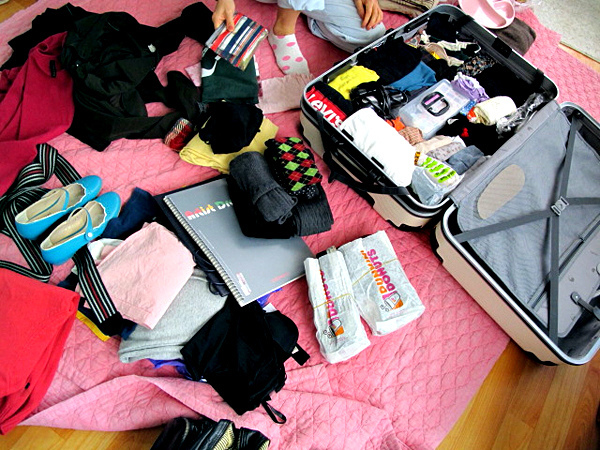 You will not need all those clothes.
Most actors on tour find themselves "trunk-shopping" or "suitcase-shopping," when they stumble upon a shirt or a dress that's spent the last four months wadded up hidden in the back, forgotten. On tour, you spend a lot of time in rehearsal or at the gym or traveling, and those clothes do get used a ton. But you do not need sixteen dresses or twelve pairs of pants. NO ONE WILL NOTICE you're wearing the same thing you did last week. SERIOUSLY. You'll be sending home a box of extra stuff before you know it, but then you'll make room for something more essential, to wit:
A Nutribullet can be your best friend.
If you have room in your suitcase or trunk, (which you will, because you won't overstuff it with clothes) bring something like this. You may not have a fridge and a microwave in every hotel room, but you can pick up ingredients to make protein smoothies without a lot of fuss, and it will save you time, money, and calories to whip up a shake for breakfast or before rehearsal. I also know people who traveled a George Forman grill, or a hot plate and a few pots and pans, but those are a lot easier to blow off. This one gets USED.
Your relationship will survive. Or it won't.
Being on tour is a very difficult thing for people in relationships with someone at home. Your schedules may be opposite, you may be three time zones apart, you may only be able to schedule one visit in six months, and so on. You both will have to WORK on the relationship, much harder than usual. But it will survive, if it's meant to. If not – it wasn't TOUR that broke you up. It was an underlying issue: the demands of your career, fears of infidelity, wanting different things.
So have a frank discussion with your partner before you leave, and understand that both of you need to be extra communicative and considerate of this bizarre situation. And remember, you won't be on tour forever.
Be wary of showmances.
For those who arrive on tour single and ready to mingle (or those whose relationships really weren't meant to survive), there are often many opportunities to get a little lovin' with someone at work. Full disclosure: I know a NUMBER of couples who have gotten married following their showmances!
But you must be very careful. If it does work out, you're developing a relationship under scrutiny of a hundred pairs of eyes. And if things don't work out, you have to see this person EVERY SINGLE DAY. A bad break up is not only your problem, it's the entire company's problem. If you do embark on an irresistible hookup, do so thoughtfully and with clear boundaries. Understand that tour life is lived under a microscope and is much more intense than "regular" life.
Explore!
Your schedule on tour can be grueling. I can't tell you how many times we basically had 10-show weeks, with a full understudy run-through and a put-in rehearsal scheduled on top of our regular 8 shows. If you stay up late winding down after the show, and sleep in to get your rest, that doesn't leave a lot of time for exploring. BUT DO IT ANYWAY. You've been given a gift of a paid trip around the country or the world. Make time to find a cool museum or brewery tour or farmer's market or whale watch trip or baseball game or Buddhist Temple. Those excursions will be the biggest memories you'll recollect down the line.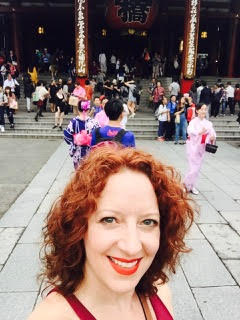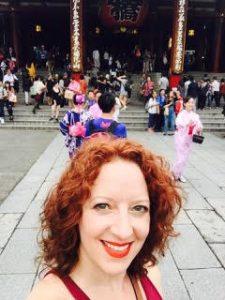 The importance of TEAM.
Make no bones about it, touring is HARD. You're in a different city every week (or more, frequently)! You have to deal with allergies, and horrific travel days, and theatres with six flights of stairs to the dressing room, and the person IN the dressing room who is bugging you, and being away from family and friends, and the list goes on. The ONE thing that makes this all bearable is that you're on a team of people all going through the same thing. So honor that.
Learn the names of your crew members. (I can't believe I have to say that, but, sadly, I do.) Respect other people's boundaries. Be kind. Be thoughtful. Make "dates" for a meal or excursion with someone you don't know very well. Don't give in to "bitch sessions." (While venting is necessary, do it with someone you trust, outside of work, and to get over an issue, not to drag other people into your muck.) Try and stay positive when things go wrong. Your tour family is a family – you're not going to love everybody, but treat them with respect.
If you lift up those around you, they'll respond in kind. So help create an environment of TEAM.
Finally…
Get those points!
On many contracts, you are able to receive airline and hotel points, even if the company has paid for the ticket or the room. (Not all, so you'll have to ask around.) Sign up for ALL those reward programs! When you check in for your flight, ask them to link your number. When you check in to your hotel, ditto. And it's worth it getting a rewards credit card. There are numerous websites that compare rewards cards, so it's easy to find one that fits your touring lifestyle.
Touring can be a magical and wonderful experience, whether you're a replacement in the road company of Wicked, or launching a new tour like Bright Star. Be excited about it! And do what you can to make the most out of your road journey. Break legs!