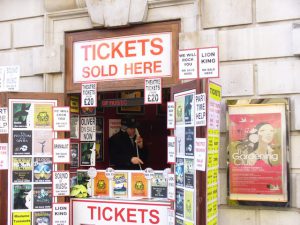 As anyone who goes to the theater on a regular basis knows, it is not always the cheapest pastime to have. You might want to see the latest smash hit, or maybe a fringe production that has received rave reviews. But, unless, you are rolling in money, what are the best ways to visit the theater on a budget?
In 2015, Broadway had 13.32 million* visitors to its theaters, while London's West End saw 14.7 million† theater-goers coming through its doors. But with ticket prices continually on the increase, audience members are paying more and more. The average ticket price in the West End last year was £42.99, while the average price for a Broadway show was $103.11. However there are several ways to get to the theater regularly on the most modest of budgets and I have compiled some top tips, designed to protect your purse but continue to increase your love of theater!
Don't Be Put Off by the Cheaper Seats
Of course the cheaper tickets offer good value and the opportunity to see a show we might not otherwise be able to afford. However, they are still expensive, and let's face it, we've all experienced this–a production of Wicked in London almost ten years ago cost me a pretty big sum of money for two tickets, which allowed me to gaze at the top of tiny people's heads for two hours. Sure, the music is amazing and the experience was brilliant, but I was frustrated by the limited view on the very back row of the Upper Circle (aka, the Balcony) in a particularly large theater.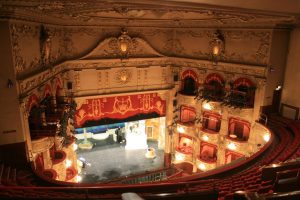 However, I have since realized that, if you are savvy, the cheaper tickets can work to your advantage and here is how.
Check out the size of the theater:
It's not much to do the math: the cheapest ticket in a large theater will probably result in you being sat in the gods, BUT if you consider the smaller theaters, a cheaper ticket may actually result in a good view and the satisfaction of knowing that you haven't spent the earth. Having figured this out, a birthday trip to see One Man, Two Guvnors in London's West End two years ago resulted in brilliant front row circle seats (in a small theater) with an excellent view and over half the price of the stalls.
Consider what 'restricted view' really means
Many seats are cheaper because they are listed as restricted view. However, most of the time, this does not mean that you lose a large proportion of the view. Instead you may lose the very top of an elevated head (case in point: the floating singers in Priscilla Queen of the Desert) or lose characters behind a flat two seconds earlier than those in the stalls.
[wp_ad_camp_1]
Pay What You Can
In addition to looking at the cheapest tickets available, also keep an eye out for any Pay What You Can (PWYC) schemes. Some theaters run these, normally on a matinee or Sunday, and they offer a limited number of seats for an affordable donation. However, you have to be quick, as these tickets are first come, first sold!
Check Out Local Theater Schools or Drama Schools
If you are fortunate to live near a good drama college or university with a theater course, take a look at their graduate shows. These up and coming performers produce outstanding, professional shows as the culmination of a lot of hard work and training. If they are open to the public, these shows are a great way of seeing a production of quality at a reduced price. One of the best colleges in the UK to offer public graduate shows is the Liverpool Institute of Performing Arts (LIPA). Their graduate productions of Spring Awakening (my first time seeing it) and Cabaret (definitely not my first time) were not only great shows, but also served as a reminder of what talent there is in the next generation of actors.
Discover the Festivals
Now, of course, going to a performing arts festival is not necessarily a cheap option. Some of the biggest and most well-known festivals, such as the Edinburgh Fringe Festival, offer a wide variety of different plays, musicals, comedy etc in differing price brackets. Yes, many productions still cost a large amount but, equally, you can stumble across well-known classics performed affordably as a fringe show. However, if you choose to go to a larger festival, don't be afraid to put in the research and go in with an open mind. For a couple of dollars, or possibly even for free, you may well discover a piece of performance that astounds the senses and makes you think differently about the theatrical experience. The Rhubarb Festival in the heart of Toronto is a perfect example of the opportunity to experience new writing that aims to explore contemporary theatrical discourse, and produce innovative and exciting pieces of work.
If You Can, Be Flexible in Your Dates/Times
For the most part, prime seats in the stalls are going to be just as expensive on a Saturday night as on a Wednesday matinee, BUT there are potentially more opportunities to upgrade your ticket when the house is only half full. Now, this will not always happen, particularly if you're going to a show during peak tourist season, but I have had several experiences where my back row ticket has been exchanged for a much better seat in the middle of the week. Often, if only a couple of tickets have been sold in the upper circle/circle, theaters will close this area off and upgrade you to the next level down. Several years ago, my circle ticket for Oliver! at the Theater Royal Drury Lane, London, was exchanged for a seat in the centre of the stalls, row G. Thank you very much! This also happened during Singin' in the Rain and La Cage aux Folles, so it definitely was not a fluke, although it is by no means a fool proof method!
Although these tips cannot guarantee a cheaper ticket, every little helps in making a trip to the theater more affordable on a limited budget. Because, after all, we all need more theater in our lives!
*Broadway ticket statistics are taken from www.broadwayleague.com
†West End ticket statistics are taken from www.thestage.com