So, you've got an audition coming up and you need THE perfect monologue. But you don't want to turn to the tired, well-used choices that audition panels have seen many times over. Maybe you're planning your next school production and searching for something new, exciting and up to the minute. Or perhaps you need to perform a scene study at college and want an edgy, contemporary scene that will challenge you and surprise your classmates. Well don't panic! Here at StageAgent we've got you covered. Our New Works program includes show guides to many new full length, one-act, and ten-minute plays, as well as exciting new musicals. Here's a guide to finding the perfect material to suit all your needs!
School-Friendly Productions
We get it, there are only so many productions of Annie, Our Town, The Addams Family, and You Can't Take It With You that one school district can put on (as good as those shows are!) If you're looking for something a little different or more contemporary this year, here are a couple of suggestions to get you started.
Currently playing off-Broadway, Tom Attea and Arthur Abrams' new musical, Hooked on Happiness, offers a host of late teen roles, perfect for any college or school production. Pitched as "the musical for a cooler planet", it centers around a drama class who decide to create their own original show about climate change, instead of putting on the tried and tested favorite shows.
If you fancy a twist on Shakespearean classics, why not take a look at Gavin Miller's The Montagues and Capulets? Inspired by the idea of how Juliet's life might have turned out if she'd lived, the play incorporates references to other Shakespeare texts, including The Merchant of Venice, The Taming of the Shrew and The Merry Wives of Windsor.
Or perhaps you'd prefer a return to the swinging sixties! Wayne Doyle's show, Hey Jude—The Musical, takes you back to Liverpool in 1965 and one young woman's fight for equal rights for all.
Ten-Minute Plays
A ten-minute play is perfect for a scene study, a festival entry, or performance assessment. More and more theatres are now putting on compilation evenings of short plays that offer audiences an exciting mix of genres and emotions. We are proud to feature several playwrights who offer new ten-minute plays guaranteed to get you thinking!
Award-winning Australian playwright, Alex Broun, offers lots of 10/15 minute plays that are ideal for festivals, showcases, and scene studies. His most popular short play, 10,000 Cigarettes, has had over 200 productions across the globe, including being produced in 35 states of the USA.
Check out the work of the American playwright, Kitt Lavoie. His ten-minute and one-act plays feature in a huge selection of short plays developed and produced by The Cry Havoc Company.
New Musicals
In addition to the shows mentioned above, we also feature a number of musicals that break new ground and provide actors with the chance to explore new, little-known characters.
Based on Hamlin Garland's tales, David Hudson and Paul Libman's Main-Travelled Roads depicts rural Wisconsin in the late 1800s. It follows the fortunes of a group of young Midwesterners, trying to navigate the hardships of life and love.
Staying in America but coming up to the modern day, America's Favorite Newscaster looks at the challenges of being a journalist in the current political climate. This musical offers an exciting challenge for a lead male to take on the role of struggling TV journalist, Evan Fury.
Monologues and Scenes – How Do I Find Them?!
So, how do you find the new works guides on StageAgent? Here are a few top tips:
The easiest step is to search the guides under the section "new plays". This search filter will immediately show up all the new works guides, allowing you to sift through them to find the perfect show for you.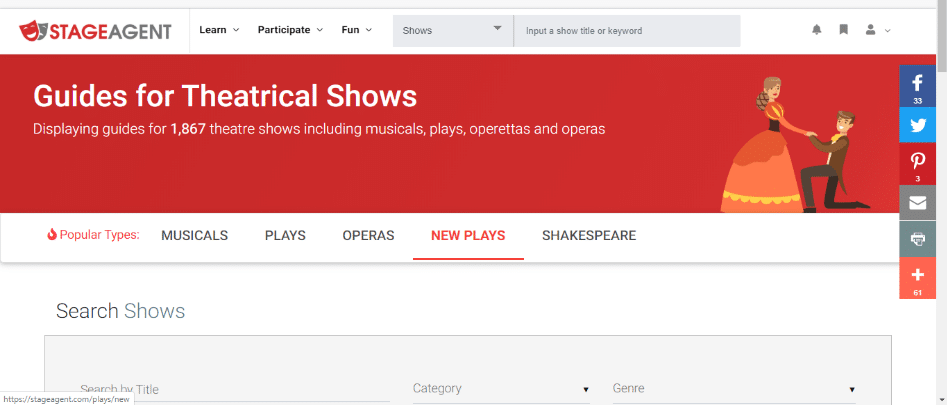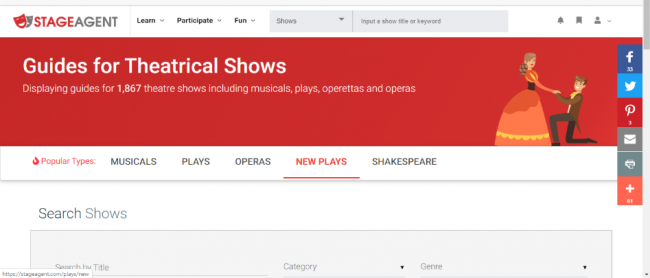 Use the tags! Whether you are searching for monologues/scenes only, or full shows, filter your search via the drop-down box at the top of the homepage with the keyword "new work". The suggested results will offer you the chance to view all guides which include this tag.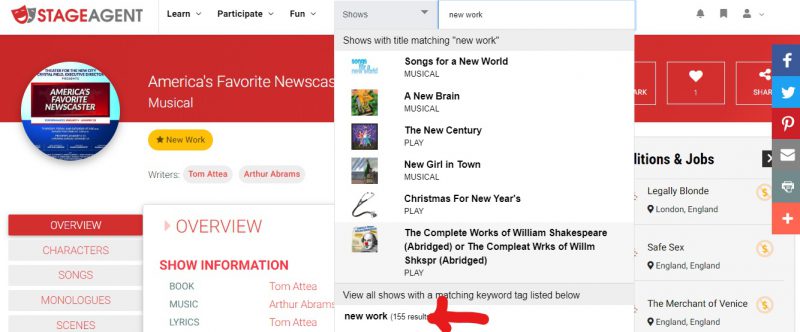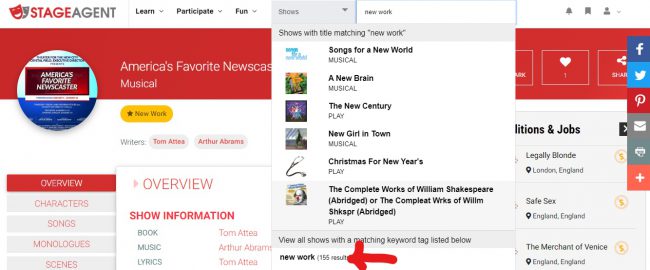 Is it suitable? Our monologues and scenes are filtered into those suitable for kids or teens so you can immediately cut out the best of the rest if that's what you're looking for!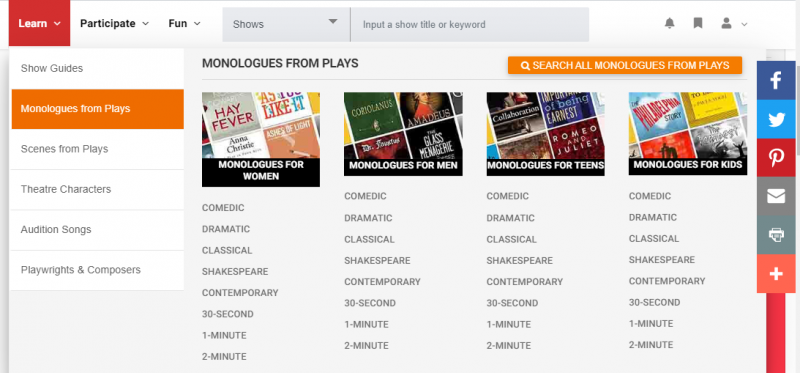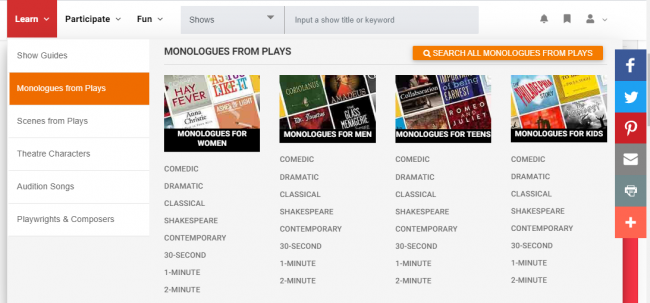 Explore a playwright! What if you find a new work you really like and want to explore some more? No problem! Click through to the playwright's biography and there you will discover all the shows we currently have on the site.
And that's all there is to it! With a ton of new full length plays, one-act plays, ten-minute plays, and musicals on StageAgent, we are sure that you will find the perfect show, monologue, or scene for you. Happy browsing!