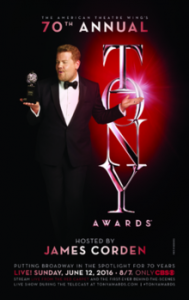 So, there's this little show happening on Sunday night. Most of America could care less (sorry about the ratings in advance CBS), but for those of us who LOVE Broadway – it's our Super Bowl! It's almost Tony time!!! Who's going to/hosting a viewing party? ME, ME!!! Sorry, I guess I'm just a little giddy.
Now the odds are pretty good that a musical skit called Hamilton will pick up a few medallions, but the bigger question is, will it beat the record number of Tonys won by The Producers in 2001? Honestly, I really don't care who wins or loses; it's the performances, the specially edited montages and numbers created for the telecast that I want  to see.
As a kid growing up in California, I looked forward to this every year. (I know you're nodding your head right now if you grew up anywhere other than New York thinking, "Me, too!") It was my only chance to see the people who were on the records (yes, RECORDS) of the Original Broadway Cast recordings that I listened to and memorized religiously. Don't get me wrong, I was lucky enough to see many touring companies in my childhood, but very few were "the real people" from the records. Now that I live in New York, I have the pleasure of seeing "the real people" frequently. I don't get to see every show, but it's exciting to watch the Tonys knowing that I was actually in the audience for some of them.
Now, this may be a simple statement, but I would think voting for the Tony Awards must be hard. I mean, with the Emmys or the Oscars, voting members of the various unions and guilds involved in the making of the productions for the previous year's body of work are sent screeners –DVDs of the nominated TV shows or films–shortly before the given voting period, about two months from nomination to awards presentation. Voters see a final product that never changes, that they can watch and replay looking for nuances in design or acting often in the comfort of their own homes. And according to the Oscar and Emmy websites, votes are mostly cast in peer categories (ie, editors vote for editors, actors vote for actors) except for the best picture or best TV series categories where all voters can offer up a ballot (and maybe some special awards, but this really isn't about the Emmys or Oscars, so back to the Tonys).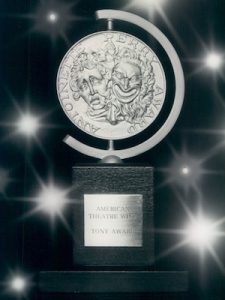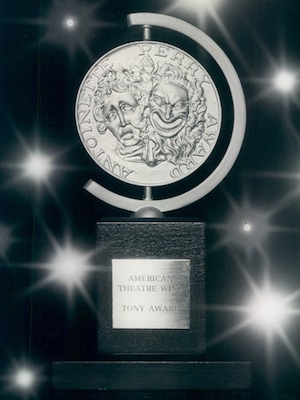 Tony nominations are decided on each year by a core group of up to 50 people and, once the nominations are made, there are approximately 850 voters. Tony voters come from guilds and unions supporting actors, directors, and scenic artists; casting and talent societies; critics' organizations; and members of The Broadway League and American Theater Wing.
The Broadway Season runs roughly May through April. The nominations for 2016 were announced on May 2 and are being presented this weekend on June 12. That's 6 weeks from nomination to awards. Many of these Tony voters have to watch a year's worth of LIVE theater, not having any idea what might or might not eventually get nominated AND everyone votes for everything; there is no peer separation (although they are asked not to vote in a particular category if they didn't see all the nominees). Tony voters are typically invited to attend a show once the reviews are out, and the local, NY-based voters do their best to get to a show quickly. Broadway shows can come and go in the blink of an eye; many can close long before actual nominations are determined. How can you keep it all straight? What if a particular style of music just isn't your thing? What if you don't feel well and are in a bad mood when you see the show? It's not like you can just stop the DVD and watch it later. Maybe, you'll be able to attend the show one more time after it is nominated, but there is no guarantee that will work out.
[wp_ad_camp_1]
I chatted with a few of my friends who have been Tony voters for several years asking for a few thoughts, and their responses were all quite consistent.
Keeping track of it all: Few of them really take any extensive notes on the shows. They might check off a master list, so they know what they've seen, or jot down a brief thought or two if they see something early in the season, but most of them just go with their gut feelings. Whether it is a virtuoso performance or sets and costumes that evoke the overall emotional feeling of a piece, what is right there on that stage will stick with them so when they finally see the lists of nominees, they are transported back into the theatres to make their final decisions.
Avoiding the hype: They all do their best to avoid reading reviews of shows or getting caught up in any hype, actively avoiding listening to recordings or watching the many clips online, so they can be swept into the storytelling of the piece that first time they see it and let the show wash over them. For voters outside of New York, this can make things easier because they are not inundated with as much local advertising, but it's also harder because they'll usually wait until the nominations come out to travel to see shows, so that's a lot of time to ignore friend's post on social media.
Judging the performance and not the show and vice versa: Sometimes there are standout performances in less than amazing shows, and beautifully written music in a show that closes very quickly. The voters I spoke try to remain as open as possible and to focus on the group of nominees in front of them, not basing their decisions on whether a show is still open and trying to spread the love around a bit, acknowledging the gems hidden in many shows. Even if a style of music or design concept may not be something they care for personally, they are able to acknowledge the storytelling and impact of a piece and the elements that support it and vote accordingly.
So, maybe you've seen some of the shows. Maybe you've only been connected to them through the multitudes of clips, blogs, and talk show appearances. Maybe you will wait until you see all the segments presented on the live Tony broadcast before making a choice. So go with your gut, or vote with your hearts and your heads. Here's your ballot. Enjoy the show!
The following two tabs change content below.
Laura Ware
Laura is a California native who has been living in NY for the past 11 years after finishing 2 years touring with Mamma Mia! She's the current editor of StageAgent.com who also work with kids and adults as the acting coach at Art House Astoria Conservatory for Music and Art.