If you are planning a trip to the Great White Way, you can avoid Living on Love. With this play performing at the Longacre Theatre, you might get tempted by discounted tickets or a star-studded cast featuring opera diva Renée Fleming. But save your time and hard-earned money for other shows such as Curious Incident of the Dog in the Night and Gentleman's Guide to Love and Murder.
The play is a farce that takes place in a glorious Manhattan penthouse owned by the Maestro Vito De Angelis (played by Douglas Sill) and his wife, the opera diva Raquel De Angelis (played by Renée Fleming). The young ghostwriter, Robert Samson (played by Jerry O'Connell) has been attempting for weeks to write the autobiography of the Maestro. To Robert's frustration, the Maestro is constantly late to interviews or making up stories about his love life. The Maestro even mocks Robert for not having a girlfriend. In fact, the main reason that Robert stays on the project is because he is obsessed with the Maestro's opera singer wife. Meanwhile, the Maestro feels that he deserves nothing less than Earnest Hemmingway writing his biography. Orchestrating the chaos of the De Angelis house are their strict and loyal manservants, Bruce (played by Blake Hammond) and Eric (played by Scott Robertson).
Unfortunately, Jerry O'Connell is thoroughly unbelievable as Robert.  O'Connell looks more like a cross-fit obsessed frat boy instead of a bookish, socially awkward writer. His stiff performance simply doesn't feel genuine.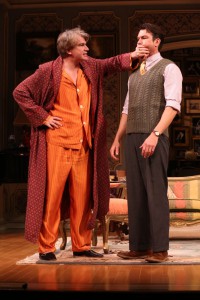 When Raquel returns from touring Europe, Robert is immediately smitten with her. Meanwhile, it is clear that the marriage between Raquel and the Maestro is on the rocks. The Maestro is extremely jealous of his wife's success as well as his arch nemesis, Leonard Bernstein. He also flirts with any girl that crosses his path. Meanwhile, Raquel's career is struggling. Her European tour was a bust. La Scala cancelled because of disappointing advance sales, and other engagements were cut short because of half-empty houses.
It seems that both the Maestro and Raquel are past the prime of their careers.
Renée Fleming's portrayal of Raquel is fine. She can in fact act as well as sing.  Douglas Sills is quite enjoyable as the Italian Maestro Vito.  Sills' performance is a notable bright spot throughtout the show.
Soon, Iris Peabody (played by Anna Chlumsky), an editor from the ghost-writing agency, comes to visit. The Maestro immediately charms her with his Italian bravado. Raquel gets jealous and begins to flirt with Robert. It seems that both The Maestro and Raquel crave the attention of worshiping fans. Fast-forward and now Iris is writing the biography of the Maestro and Robert is writing the biography on Raquel.
As the marriage between the Maestro and Raquel collapses, they spend all their time with their respective ghost writers. They both seem to enjoy the challenge of making each other as jealous as possible. It even gets to the point where they are proposing marriage to their respective writer.
But now that Robert and Iris have grown to know the Maestro and Raquel so well, they realize that their idols are just your average deeply flawed human beings. Robert and Iris end up rejecting Raquel and the Maestro's advances.
In the end, Raquel and the Maestro realize that they are better off staying together. Iris and Robert end up falling in love. And in a twist, it turns out that Bruce and Eric have actually been in a romantic relationship all along.
Living on Love is not the worst play I've ever seen. There are a few decent laugh lines.  Opera fans probably will appreciate a lot of the jokes more than the average theatre-going public.  But the script just isn't very good. The play would be fine in a local community theater. But it has absolutely no place on Broadway. Hopefully, it will close soon so a better show can take its place at the gorgeous Longacre Theatre.